Featured BANANO Community Project: Dungeons & BANANO
Nov 23, 2021 • 3 min read
Are you a fan of Dungeons & Dragons style games? Are you a fan of not only cryptocurrencies, but also BANANO? Well look no further! Dungeons & Banano is here for you!
BANANO is not only backed by next generation DAG tech, powered by potassium, memes, and 100% free distribution, it is especially driven by its community. That's why we're giving the BANANO community project 'Dungeons & BANANO' a little shout-out today! Learn more below!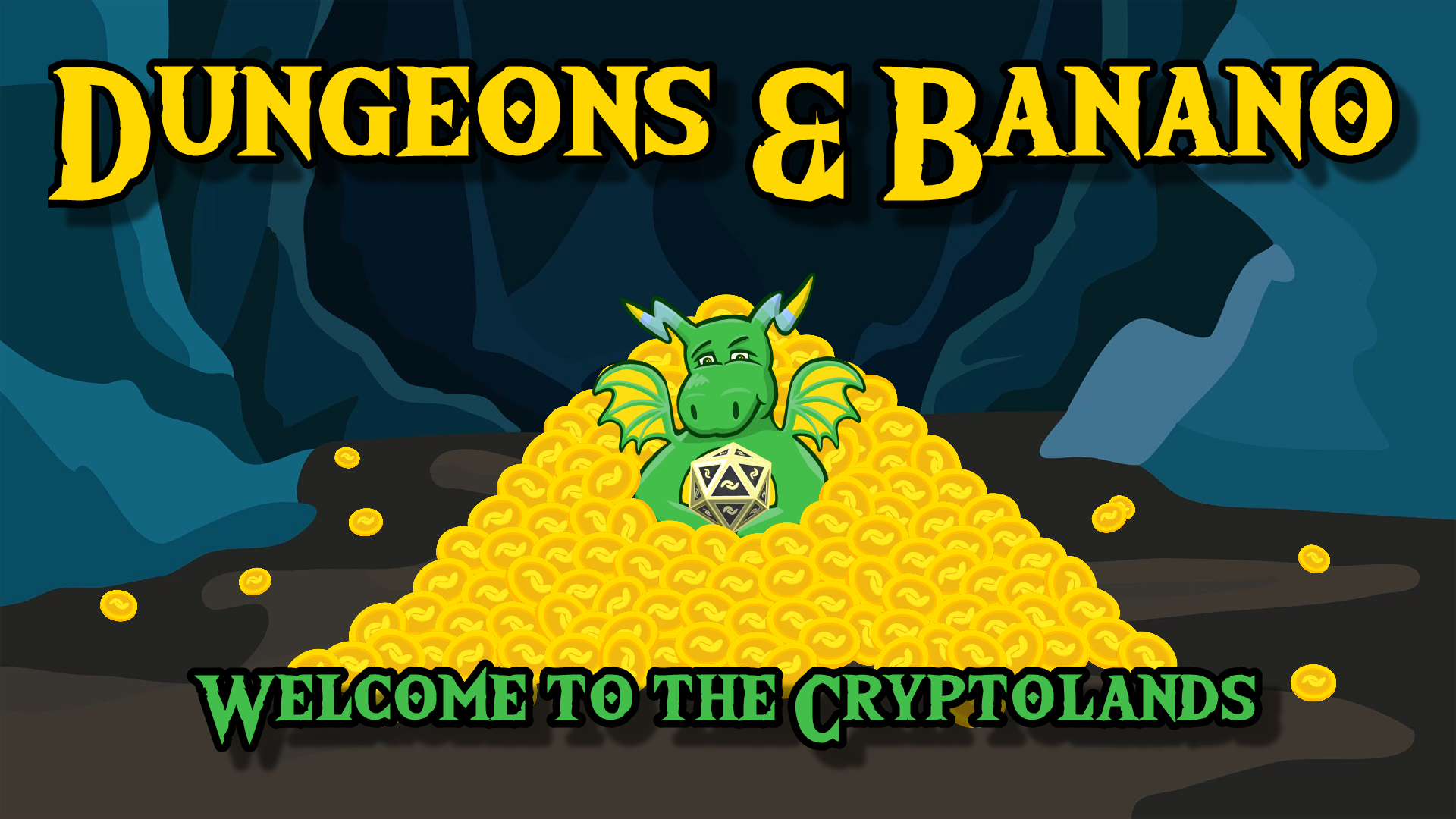 What is Dungeons & BANANO?
So you are probably asking yourself "What is Dungeons & Banano"? Well, it's what you get by combining the storytelling power of tabletop role-playing games with the magic of the Banano community. There are regular live sessions held in the Dungeons and Banano Discord server, a podcast, a Dungeons & Banano University, and of course bantastic contests and giveaways where you can earn BANANO and BANANO-themed NFTs.
Here's what the Dungeons & Banano Dungeon Master has to say:
Let me introduce to you the whacky cast of this potassium driven adventure!

Bosco as the towering Gorilla — Banambe!
Jhaded as the magical child of the eldritch blast — Kit!
Champ Rockwell as the crafty and fast talking Rogue — Bani ! (warning: he hates sand)
And I'm Zanefold, your host and dungeon master. I'll guide you and the players through the adventure. So let me be the first to welcome you, to the Cryptolands!
Head to the announcement channel in the Dungeons & Banano Discord Server to find out when the next live session will be taking place, and to learn more about the project!
Giveaway: monKeystacks NFT by cryptomonKeys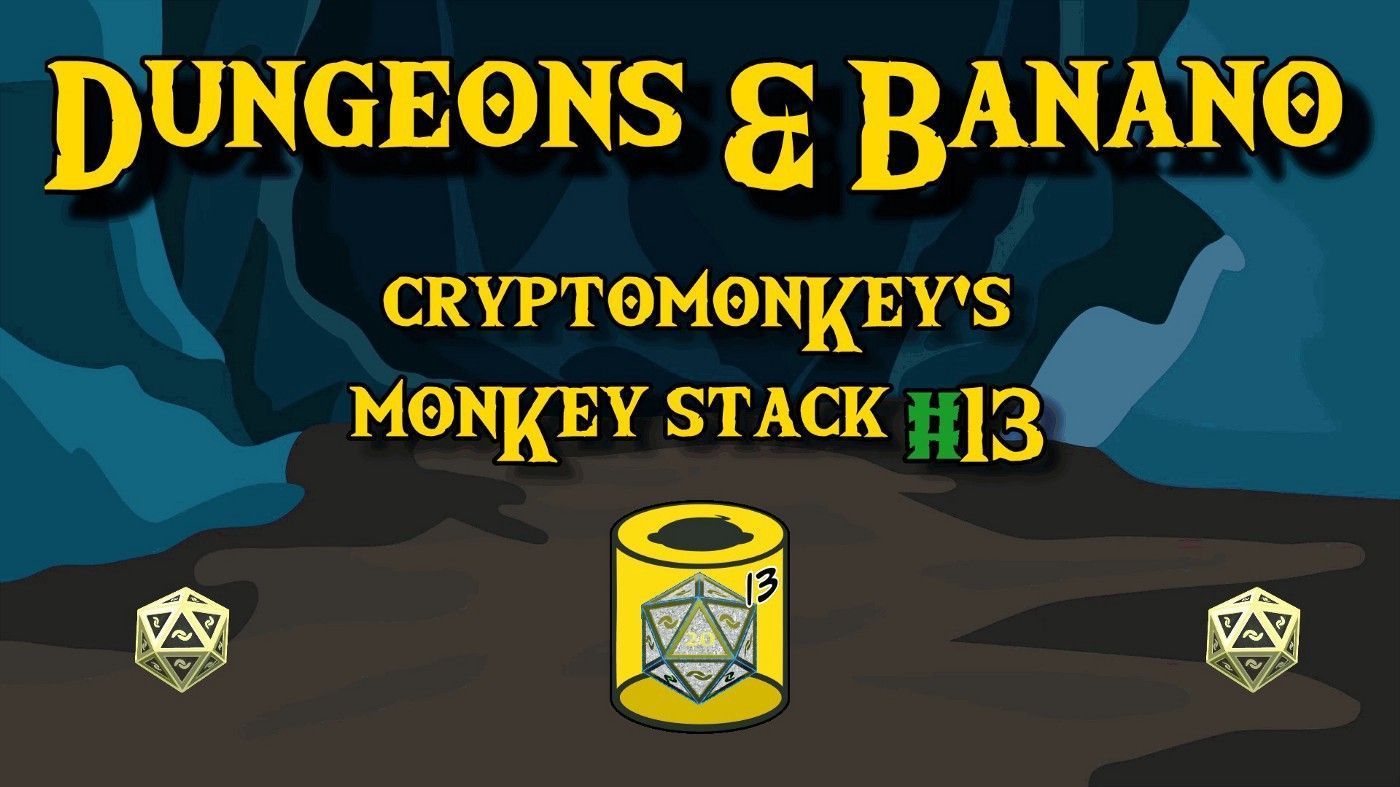 The cryptomonKeys team recently announced monKeystacks, a brand-new BANANO-themed, community-powered NFT series! To further spread the news about Dungeons & Banano, both community projects teamed up and created a brand-new, exclusive monKeystack NFT!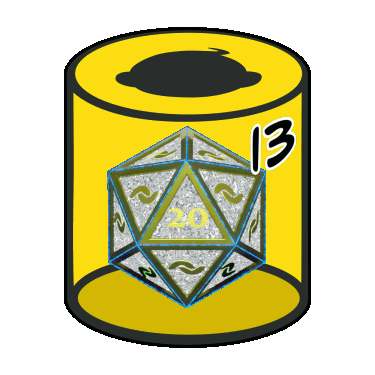 Looks great, right? This collaborative NFT was just released and will be given away to early Dungeons & BANANO contributors and users and the community of both projects, alongside with BANANO prizes! Keep an eye on their socials for upcoming giveaways for new users as well!
Interested? Learn more about Dungeons & Banano here:
Learn more about cryptomonKeys NFTs here:
If you know another project interested in teaming up for creating a monKeystack NFT together, reach out at the cryptomonKeys Discord!
What the Fork is BANANO?
For those of you who don't know BANANO yet, it's obviously perfect to just read our animated, meme-rich and interactive Yellowpaper! BANANO is a cryptocurrency (forked from NANO in April 2018) powered by DAG technology — here to disrupt the meme economy. Yes, BANANO has memes! And also feeless and near-instant transactions, a highly active community, and active technical development! The BANANO community doesn't take themselves too seriously, but we're here for the long run and we enjoy what we do. On top of this, BANANO is super easy to use and puts an emphasis on free and fair distribution, gamification and crypto education.
See current BANANO price and market data at Coingecko or Coinmarketcap. All current trading pairs and exchanges here.
Join the Banano Republic!
BANANO ($BAN) is a fee-less, instant, rich in potassium cryptocurrency powered by DAG technology disrupting the meme economy.
Official Website: banano.cc
Yellowpaper: banano.cc/yellowpaper
Help getting started: banano.how
Community News: The Daily Peel
Join our social channels for updates & giveaways:
Discord | Twitter | Telegram | Reddit | Youtube
Publish0x | LBRY | Medium
Github | BitcoinTalk | Instagram | Facebook | TikTok
Overviews:
BANANO News | BANANO links
---