BANANO Masquerade Party (50k BAN+NFTs Prizes)
Feb 20, 2021 • 3 min read
Backed by next generation DAG tech and potassium, BANANO is a cryptocurrency getting into your wallet fast, feelessly, and with loads of fun. BANANO is distributed for free to everyone. Its easy-to-use technology onboards normies and crypto-noobs without the usual hassle by combining a fun attitude with gamification, and then educate them to handle crypto in general in a responsible way…
…That's why we now bring you the Masquerade Party event! Of course one of the characteristic and most recognized icons of the Carnivals are The Masks. A mask is something decorated that totally or partially hides the face. This element has been used since ancient times and in modern history, it is a reflection of anonymity and fun. Join us and win your share of 50k BANANO plus cryptomonKeys NFTs in prizes!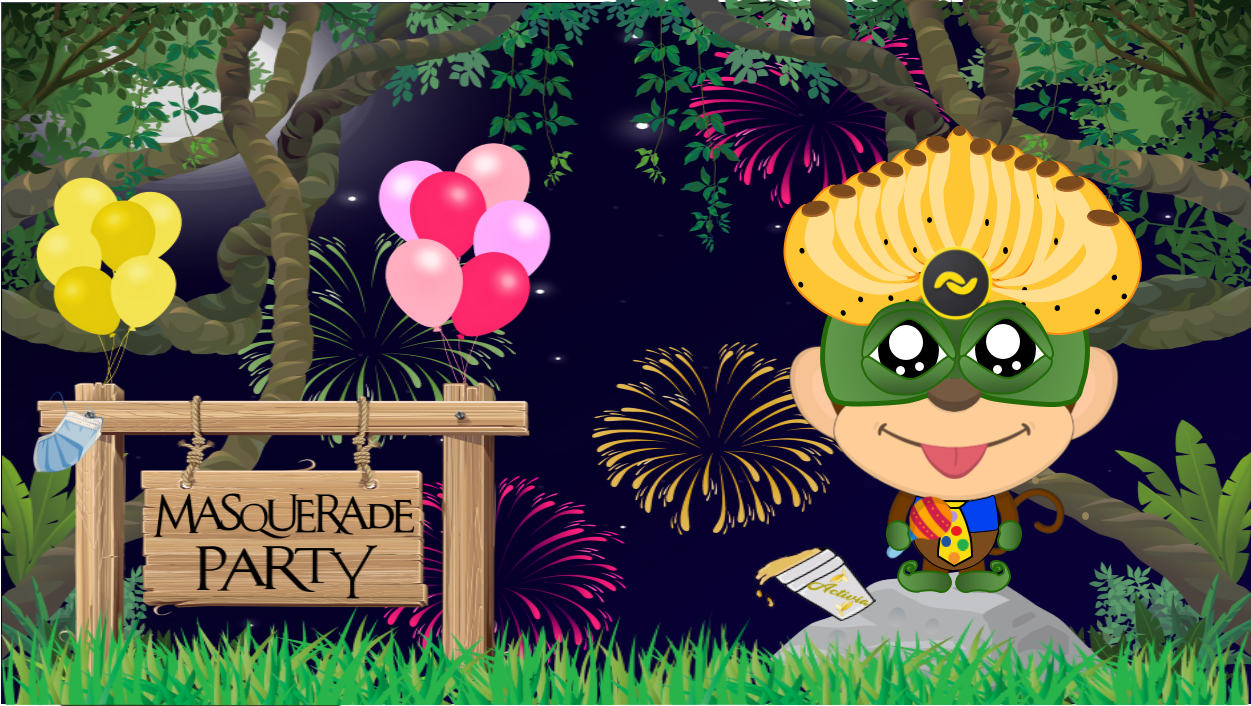 BANANO has the most enthusiastic and talented community in the world of cryptocurrencies, that is why the BANANO community invites you to create a mask and participate in our Carnival-themed contest. You will have to create a mask inspired by some element of Carnival: Something cultural from your region, become one of the BANANO emojis, or surprise us with your creativity.
How to Participate and Rules
· Can use recycled material or any material that can bring life to your creation.
· Take three photos of the process and one with your mask finished in which you must appear (wearing or holding the mask, as you like)
· Write your Discord user ID on a paper which must appear in all photos.
· Share these photos on Twitter or Instagram with the hashtags $Banano #Masquerade #Contest#Carnival and post that link on the #contest-submissions-results channel on the BANANO discord server.
· For this even you don't need to be a discord citizen to participate.
Prizes
1st Place: 10000 BANANO
2nd Place: 6500 BANANO
3rd Place: 3500 BANANO
…and prize splits for all correct entries — totalling 50,000 $BANANO + bonus cryptomonKeys NFTs for the Top Three!!
You will have until February 25 to participate
Our expert jury will be in charge of evaluating all the details of each of the masks and will give the results shortly after the contest closes.
Thanks to Phantoad for organization, and special thanks to Rosemarys#2684 for this amazing idea.
Not on our Discord yet? No Problem!
Don't know what BANANO Citizenship means? Don't have the Citizen role? You don't need it for this event, but sometimes events and giveaways require BANANO citizenship. Don't worry! Follow these 3 steps and you'll be a citizen monkey in no time:
1. Join our Discord at BANANO Discord Server
2. Enter the #the-jungle (chat channel) of your preferred language
3. Introduce yourself and participate in the chats. Have a little patience and fun in the chat and learn more about BANANO, and a moderator will grant you citizenship after some time! Find more details in this article.
Now head over to the BANANO Discord Server and join us! We have BANANO giveaways and rains going on there all the time!
Don't know Discord? No worries, it's easy to join it, get step-by-step help here. If you have further questions after joining, as in the channel #the-jungle.
What the Fork is BANANO?
For those of you who don't know BANANO yet, it's obviously perfect to just read our animated, meme-rich and interactive Yellowpaper! BANANO is a cryptocurrency (forked from NANO in April 2018) powered by DAG technology — here to distrupt the meme economy. Yes, BANANO has memes! And also feeless and near-instant transactions, a highly active community, and active technical development! The BANANO community doesn't take themselves too seriously, but we're here for the long run and we enjoy what we do. On top of this, BANANO is super easy to use and puts an emphasis on free and fair distribution, gamification and crypto education.
See current BANANO price and market data at Coingecko or Coinmarketcap. All current trading pairs and exchanges here.
Join the Banano Republic!
BANANO ($BAN) is a fee-less, instant, rich in potassium cryptocurrency powered by DAG technology disrupting the meme economy.
Official Website: banano.cc
Yellowpaper: banano.cc/yellowpaper
Help getting started: banano.how
Community News: The Daily Peel
Join our social channels for updates & giveaways:
Discord | Twitter | Telegram | Reddit | Youtube
Publish0x | Uptrennd | LBRY | Medium | Hive
Github | BitcoinTalk | Instagram | Facebook | TikTok
Overviews:
BANANO News | BANANO links
---