BANANO Mobile Wallet Update —  Kalium v2.1.3 Released
May 9, 2020 • 3 min read
Kalium — BANANO's mobile wallet — is not only super popular but definitely one of the smoothest, slickest and fastest wallets in the whole cryptocurrency space. The new Kalium version 2.1.3 has now become even faster and better! Read more below.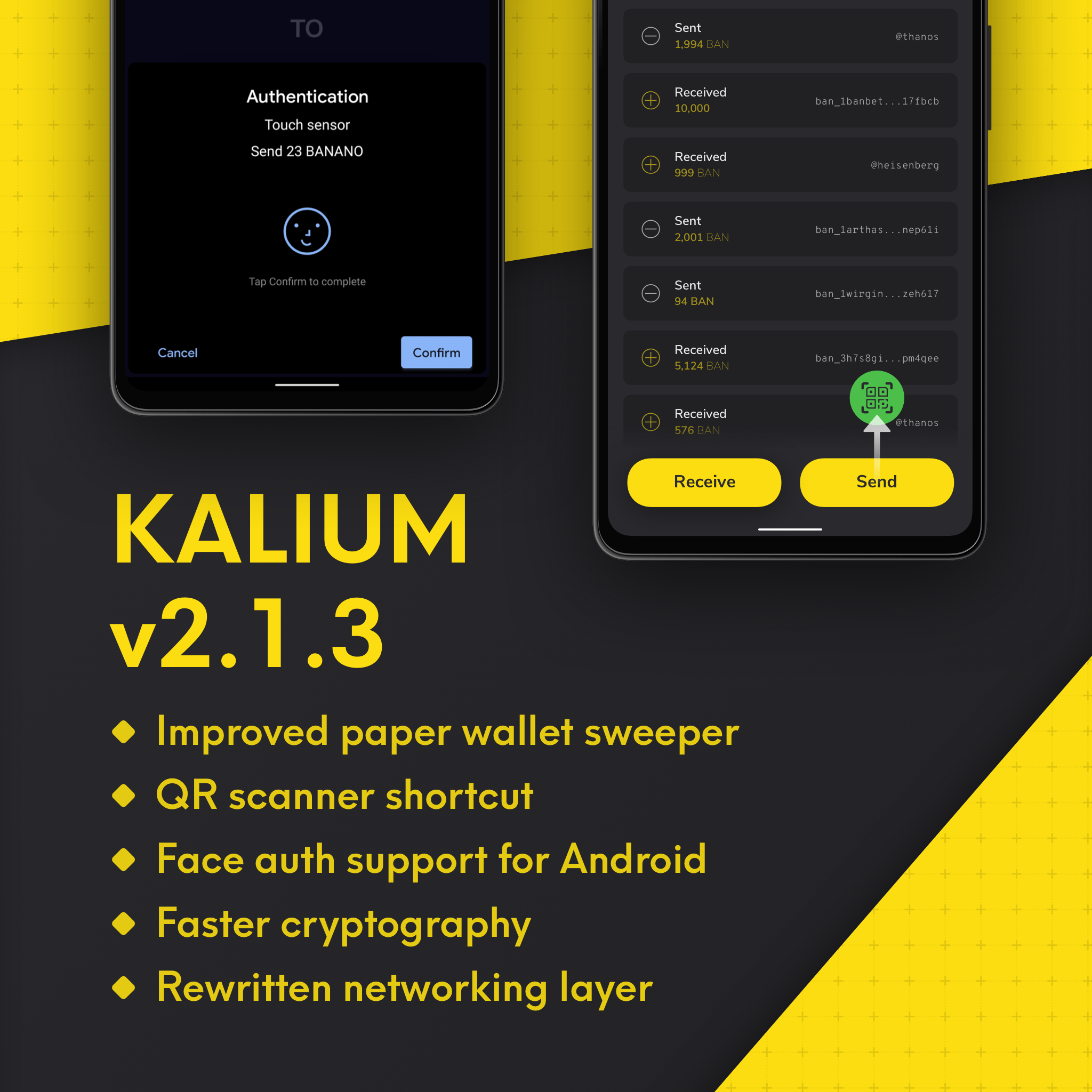 Kalium v2.1.3 Release — Changelog
Kalium v2.1.3 is currently rolling out to the Google Play Store (already out), the Apple App Store (coming within the next days), and is available on GitHub.
Download links on the Kalium website. Here's the changelog:
Faster cryptography using C — new flutter_nano_ffi plugin increases performance of cryptography algorithms on all devices (faster multi-account, transactions). Flutter Nano FFI.
Rewritten networking layer — more reliability when creating transactions particularly on less stable internet connections.
Improved paper wallet loader — rewritten to be more reliable and fix some bugs.
Flutter 1.17 — We've updated our build to Flutter 1.17, see the release announcement.
QR Scanner Improvements and shortcut — Reliability has been improved on some Android devices, improved auto-focus. Swipe up on send button to scan.
Face auth support for Android (on supported devices, e.g. Pixel 4).
General Fixes & Improvements — Dependencies have been updated, some screens have been re-worked.
GitHub Actions — Behind the scenes we've migrated our CI/CD workflow from Gitlab to GitHub Actions.
Updated translations.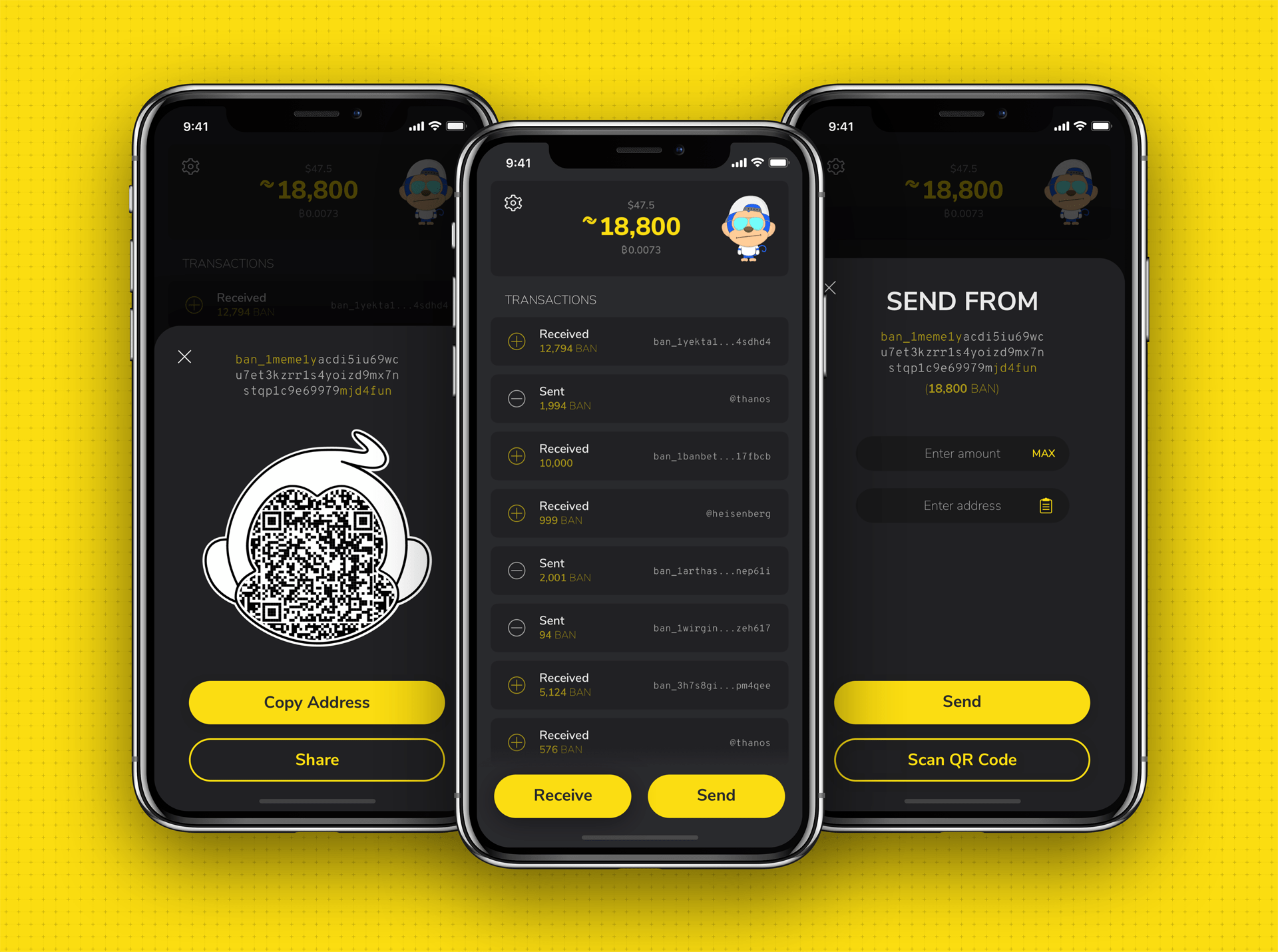 Are you New to Kalium?
Main Features (full list/documentation at Github):
Send/Receive BANANO securely
Mnemonic phrases
View complete transaction history
View transaction details on creeper
Export monkeyQR and address as a PNG image for sharing
Full monKey integration
Fully featured contacts/address book
Change your representative
Biometric support (FaceID+TouchID)
QR scanning
Deep link/URI support
Paper wallet loader
Push notifications
30+ currency conversions, 20+ languages
One of Kalium's main distinctions however is surely the function to claim paper wallets or gift cards from Kalium directly in-app. You basically just scan the seed as QR code and sweep the existing balance on this address into your wallet. Within seconds. To our knowledge this is an unprecedented way to easily transfer a cryptocurrency through a QR code, within seconds, in a mobile wallet.
A special thank you to our great developers and masterminds behind Kalium, bbedward and yekta!
Grab your update on the Kalium website today!
What the Fork is BANANO?
If you don't know BANANO yet, it's obviously perfect to read our animated, meme-rich and interactive Yellowpaper! No worries, it's not boring at all!
BANANO is a cryptocurrency (forked from NANO in April 2018) powered by DAG technology — here to distrupt the meme economy. Yes, BANANO has memes! And also feeless and near-instant transactions, a highly active community, and active technical development! The BANANO community doesn't take themselves too seriously, but we're here for the long run and we enjoy what we do. A concise explanation can also be found here at Bitcointalk, or on our official website, and you'll find help getting started at banano.how.
See current BANANO price and market data at Coingecko or CoinMarketCap. You'll find a summary of all current trading pairs and exchanges here.
Importantly, BANANO is super easy to use and puts an emphasis on free and fair distribution and crypto education. Just try our slick mobile wallet called Kalium and get your first free $BANANO from one of our faucets within minutes!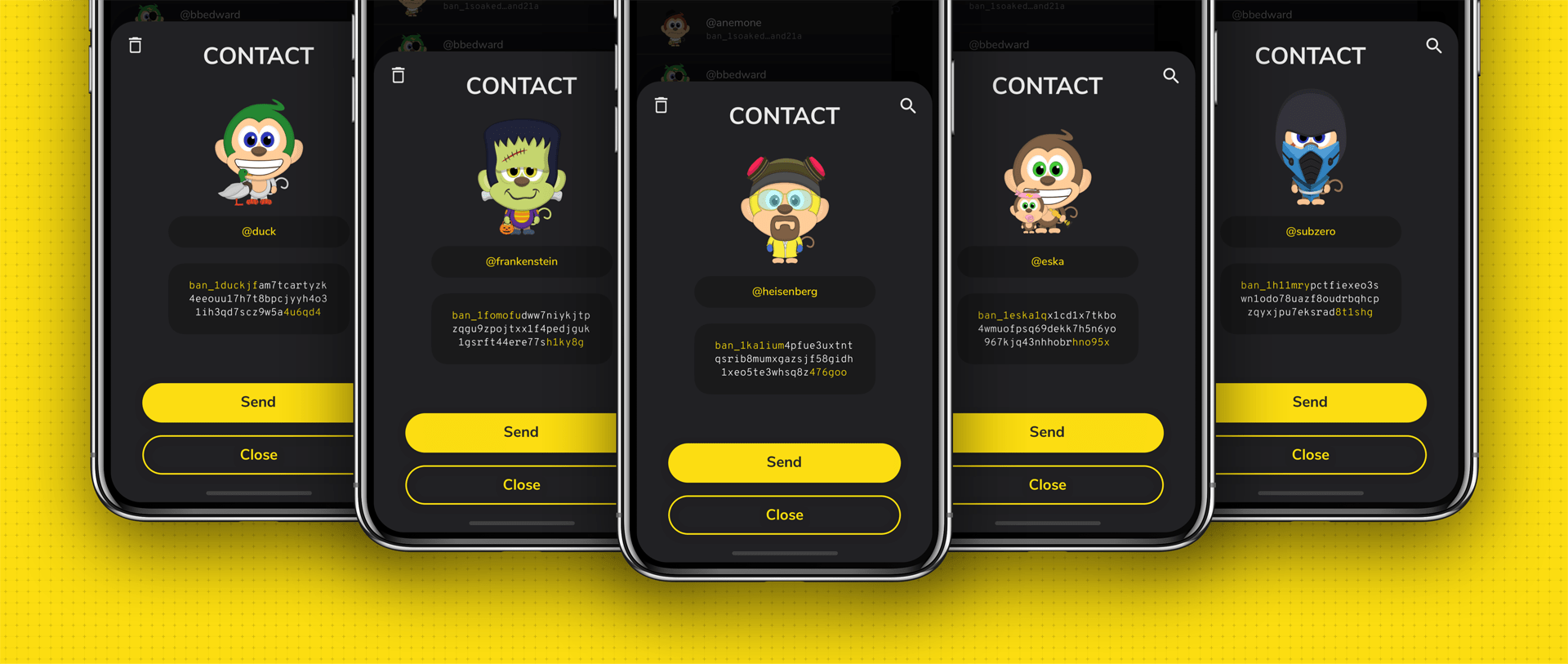 Join the BANANO Republic!
BANANO ($BAN) is a fee-less, instant, rich in potassium cryptocurrency powered by DAG technology disrupting the meme economy.
Official Website: banano.cc
Yellowpaper: https://banano.cc/yellowpaper/
Help getting started: banano.how
Join our social channels for updates & giveaways:
Discord | Reddit |Telegram
Medium | Steemit | Publish0x | Uptrennd
Twitter | Instagram | Facebook
Youtube | Github | BitcoinTalk
Overviews:
BANANO News | BANANO links | BANANO events
---