BANANO x Vite: 5 Million BANANO Airdrop to Vite Wallet App Users & AMA Recap
Jan 22, 2020 • 12 min read
You might have seen that BANANO was listed at Vitex Exchange few days ago (announcement). To celebrate this, the BANANO team also did a highly successful AMA (ask-me-anything) together with a 500k BAN airdrop at the Vite Telegram group last Friday. Now, we're airdropping 5 Million BANANO to all Vite Wallet App Users!
Find out how to claim the airdrop easily and find further a recap of the AMA session in case you're interested.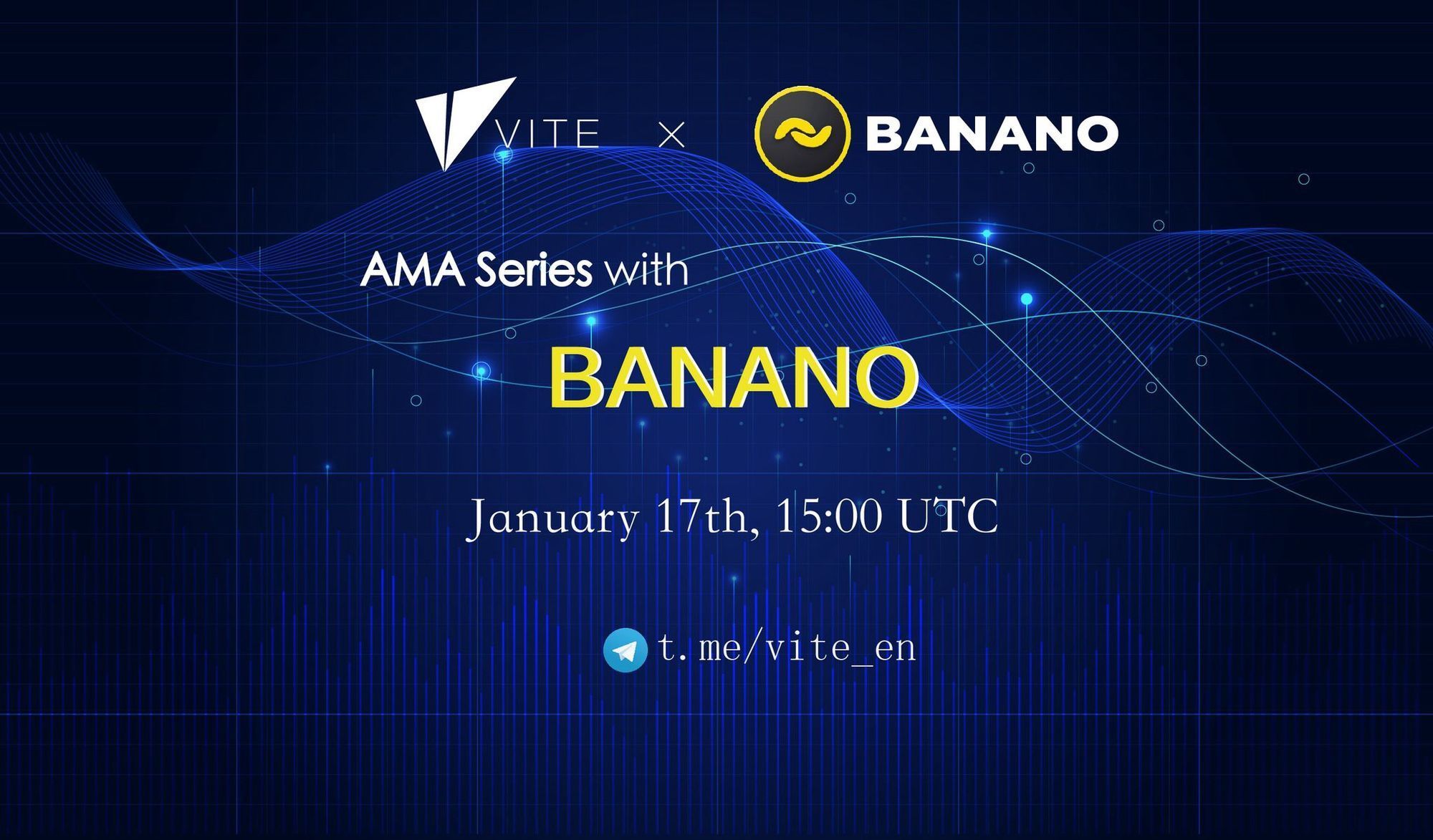 How to claim your share of the 5 Million BANANO airdrop
The BANANO team has provided a total of 5 Million BANANO for distribution amongst all users of the Vite Wallet app, which also can be used for trading at the Vitex Exchange. Here's how you can claim your daily share of this airdrop:
Step 1: Download the Vite mobile wallet app (android or iOS) from https://app.vite.net/
Step 2: Create a wallet, and save the recovery phrase/private key!
Step 3: In the wallet app, click on discovery (the little planet at the bottom of the screen):

Step 4: Click on the circle (? BAN) above 'Hit to claim':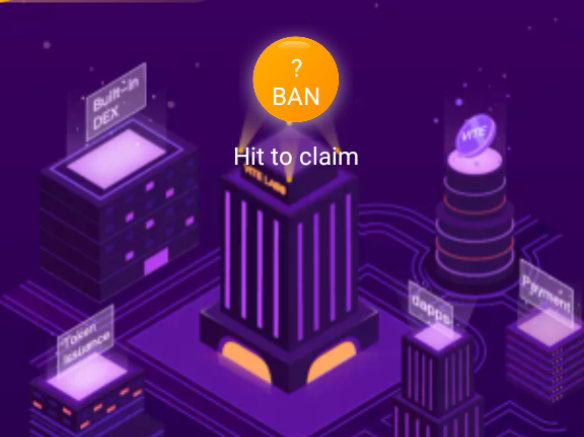 Step 5: Complete the social tasks and familiarize yourself a little with BANANO. When you're done, click on 'Done with missions'.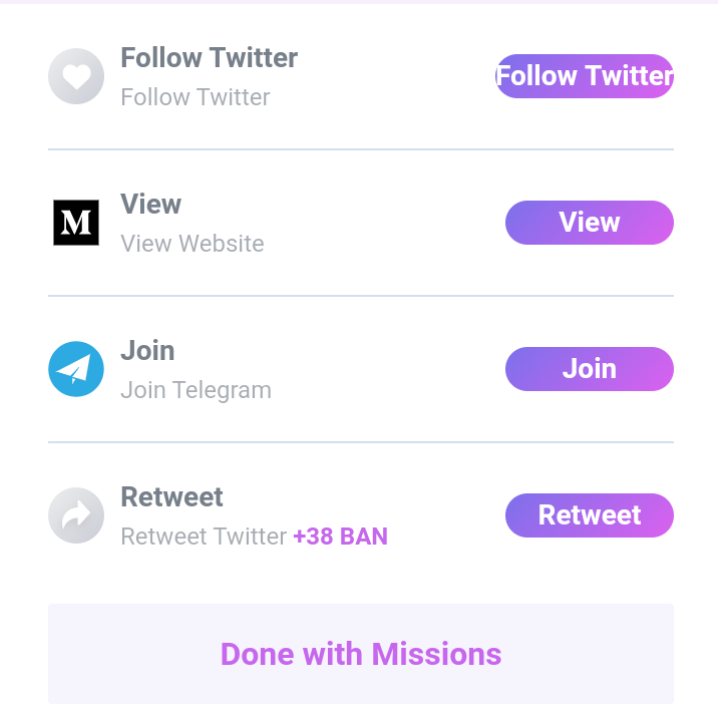 You're all done! You will be able to claim a total of 88 BANANO every 24 hours until the cap of 5 Million BANANO is reached! Stay tuned for updates!
Task links for reference:
Follow Twitter: https://twitter.com/bananocoin
View Website: https://banano.cc/
Join Telegram: News Channel | Main Group | All local Groups
Retweet this tweet: Link to Tweet
AMA Series: Recap of the BANANO AMA at Vite Telegram
For everyone who missed the AMA session, here's a transcript of the AMA where the BANANO team (BBedward, Deiv, and Bantano) introduced the Vite community to the project and answered lots of good questions. The AMA was happening on Friday, January 17th 2020 in the Vite Telegram Group.
Begin of AMA
Vitex (Oleg): Hi @bbedward, @bantano19, @Deiv. @Purian23 , welcome to the Vite community! Congratulations on ViteX listing. I hope this is only the beginning of our successful cooperation🤝 How are you doing today ?🙂
BB: Hi 👋 we're excited to be a part of ViteX
Deiv: Thanks for having us here Oleg! 🙌
Bantano: Hi! Thanks for having us over! Looking forward to this!
BB: I'm doing well, just sipping on coffee getting ready to answer questions 😀
Vitex: We are very happy to have you here, on our joint AMA👌 The very first question for you. Can you introduce yourself? A simple three characteristic is preferred
Bantano: I'm bantano, responsible for streamlining BANANO's social media and community activities together with our community managers. And also sipping on coffee 😎
BB: I've been part of BANANO since testnet began in March 2018, I'm a Python, Java, Javascript, Vue, Flutter, Android developer that's worked on the discord bot, Kalium — the mobile wallet, bananominer.com, monkeytalks.cc, and a whole lot of other things.
Deiv: And I'm Deiv! One of the three community managers. I mostly take care of the community here on Telegram, and on Discord too 👌
Vitex: Nice to know more about you.🙂 Ok, let's start the Section 2. Here we go the 1st question for you…
1. What is BANANO and how did it start?
BB: Banano is the first-ever fork of the cryptocurrency Nano (formerly known as RaiBlocks). In late 2017 RaiBlocks ended their controversial distribution and burned all undistributed funds. RaiBlocks soared in popularity during the bull market until February 2018, when an exchange known as BitGrail was hacked — losing $170M worth of RaiBlocks (XRB). Later, in early 2018 the RaiBlocks team rebranded to Nano. There was heated discussion about the rebrand as there usually is with such a decision, but also there was memes. One of the memes was "BANANO." Later, a BitGrail victim had the idea to make BANANO real — a meme coin that wouldn't take itself too seriously with the same fast, feeless technology as Nano. On April 1st, 2018 the BANANO mainnet was launched.
With a diverse group of initial core members that has since expanded. BANANO would bring back distribution in new, innovative ways. Through games such as the popular "BANANO Runner", giveaways and tipping on social media (Discord, Telegram, Twitter), a folding@home "miner" — BANANO continues to evolve its distribution strategy. Numerous other innovations were released including Kalium, an innovative wallet for iOS and Android (later ported to Nano under the name "Natrium"), the "monKey", uniquely generated avatar per BANANO address, CAMO Banano, and more. We aim to not take ourselves too seriously and to raise awareness and educate people on cryptocurrency, managing cryptocurrency, and more specifically DAG cryptocurrencies. Even though we're a meme coin, we have released numerous products and innovations and have one of the most active communities in crypto.
Vitex: I would call it: Cool and Long Story😄✌️Move on to the next questions…
2. The distribution of BANANO seems quite unique, can you tell us more about how it works?
BB: Like I said the RaiBlocks distribution was controversial — that's because a small amount of people got extremely large amounts, whether through cheating the captchas or running farms, etc. BANANO is kind of like a second attempt for free and fair distribution. We have had frequent battles with bots and cheaters but have evolved our distribution strategy to account for that. We started with a discord bot that ran giveaways, tipped active users, etc. and a 3d game called "Banano Runner", where you controlled a monkey and collected bananas, in exchange for real banano. Since then we added new faucets including folding@home "mining" (bananominer), "Black Monkey", "Meme Faucet", "Monkey Match". Some of these are 24/7 faucets and some of them run periodically so you should follow our social media channels for more details as we announce events, sometimes there's even giveaways through our social channels (Twitter, Telegram, Discord) — we've also done airdrops to Nano holders, DOGE holders, active Kalium users. And there's consistent rains and airdrops over on our discord server.
Since the beginning we distributed roughly 30% of coins, last April 1st in celebration of our first anniversary 100M coins were burnt reducing the total supply.
Vitex: Very cool and unusual. Great attention to the community👍👍
Do you plan to distribute coins further?
BB: Yes — distribution is ongoing and every day more coins are distributed through one of the faucets or social media.
Vitex: Got it. It looks like you will have more and more supporters🚀 Now let's talk about community… question number 3
3. Can you tell us more about the BANANO community and its attitude?
Deiv: Sure. The BANANO community is a unique ecosphere of crypto enthusiasts, and we have strong local communities especially from South America and Asia. Basically everyone is very welcome to get involved, help with development and distribution or propose projects. the team usually rewards the most creative people within the community, mainly through our Discord server, so everyone can earn some BANANO by making funny memes about us or by winning one of the multiple competitions we constantly host on our social channels: we think that as "mining" cryptocurrency with your creativity 😄 Overall, many people join Banano for the fun and memes and stay for the tech and comunity. If you join our Discord or other channels you will also experience that community members always will help each other and be supportive for people being new to crypto.
Vitex: As I understand it, the main part of your community is in Discord, right?
Deiv: Yeah We basically consider the Discord server as our Headquarters 😄
Vitex: 👍 Interesting, how everything is arranged inside and making decisions…next question about it🙂
4. Please describe the governance of Banano and how decisions about its future will be made?
BB: The governance of banano is centralized. There's two founders as well as several core members that generally split the decision making. We're more laid back, come up with ideas, and develop them on our own time. We have numerous community managers too which manage their own communities as they see fit in several languages — ie spanish, chinese, russian, turkish, italian, vietnamese. We do have a roadmap and some plans that we all work towards going forward. We also welcome community contributions, and frequently pay out bounties, rewards, etc.
Do you have your headquarter locations?
BB: We all work remotely from all over the world. We have team members in the USA, across Europe, Turkey, Israel — there's no central headquarters for BANANO.
Vitex: As I thought😄 this can be called decentralization in a way 👌 Last question, let's talk more about the future🚀
5. What can we expect from Banano in the coming months?
BB: There's a lot of things going on, you can checkout our website banano.cc where we have the roadmap. The biggest undertaking that's always ongoing is focusing on distribution. Figuring out new faucets, how to streamline it, exclude potential exploits, avoid third-world countries relying on it as a source of income. We have plans for a 1-click discord bot that can be added to any discord server, we're working on a new faucet game currently as well as "CAMO Banano", which is a privacy layer that recently launched in alpha. We're working on Kalium v3 — a rewrite of our already well-reviewed mobile wallet (kalium.banano.cc) Our community has several additional projects in the pipeline that focus on spreading and using BANANO as well.
Vitex: I'll definitely look. We also had an airdrop and a faucet created by one of our block producers. Therefore, we understand how difficult it is to prevent it from being abused😅 Great, thanks for the detailed answers, @bbedward, @Deiv . And now we go to Section 3: For the free chat Q&A from community, I am looking for some good questions from community now. I'm opening a chat for one minute…
[a total of 131 questions from their users, we answered to 10]: click here to reach the first question on their chat: https://t.me/vite_en/209766
Q: How strength the KALIUM WALLET is? Can you share the major weakness of KALIUM wallet and how the team is combating it?
BB: Natrium, which is forked from Kalium, was audited in June by red4sec (red4sec.com). They found no critical vulnerabilities and had some minor suggestions such as adding root detection, which we implemented. The rewrite with V3 is mainly focused on redesigning the interface, UX, etc. As well as improving performance. (Using Dart C-bindings for block signing, key derivation, etc.)
Q: Why is your technology special? Can you explain more about the relationship between Directed Acyclic Graph (DAG)?
Deiv: Okay, basically the magic behind Nano (and so Banano) lays on its Blocklattice: transactions are asynchronous and that means they can technically happen together at the same time. You may also have noticed tx on Banano are feeless, that's because it uses PoW in an innovative way: it's not meant to be used for transactions validating, but as a spam-prevention PoW, so you can basically get a feeless system without risking severe spam attacks
Q: Everyone needs security for their assets because,Security is a community concern.
BB: BANANO has a few non-custodial wallets where security is up to you. Banano Vault (vault.banano.cc) for web, Kalium (kalium.banano.cc) for mobile. For these wallets, you control your own keys and all private key operations are handled locally. There's also the new CAMO desktop wallet, which is currently in an Alpha state.
Q: Hi Banano Team and Oleg, Thanks for this oportunity. My question to the banano team is: When will it complete the CMC listing?
Bantano: CMC is quite restrictive about listing, and not very fast with new listings. While Banano is on several newer/smaller exchanges already, CMC requires considerable volume over time on exchanges that are on CMC. With more exchanges like Vitex and more volume on those we'll probably fully tracked and listed on CMC within the next weeks.
Until then, we recommend using coingecko.
https://www.coingecko.com/en/coins/banano
Q: Whats the Main use of Banano project because there are already many projects are available which provides feeless & instant transactions! Whats the competetive advantages of your Banano project?
BB: BANANO has numerous advantages, while we're still developing use cases, the fair and wide open distribution is a big thing that sets it apart from other coins. As well as the ease of running nodes, developing applications, etc.
Q: What motivated u guys to start this project banano? Do you have a word of encouragement for we the community? Can you tell us about your achievements? What important achievements have been achieved since the project started?
BB: So after Nano rebranded and millions of coins were lost due to the BitGrail hack, the Nano community started to die down as there were a lot of hard feelings over lost funds, rebrand controversy, etc. We thought we could make a coin that didn't take itself so seriously, without controversy, that could help spread awareness and educate. It also gave us a chance to re-do the controversial distribution that Raiblocks had initially.
Q: Can you give 2–3 killer features of BANANO over this competitors?
Deiv: Well that's easy. Beside transactions being feeless and ultra-fast, we've been seeing lots of crypto newbies beginning their journey with Banano because, compared to other more complex cryptocurrencies, it's more easy to understand: since transactions are feeless, you don't need to worry about how much you're going to pay in fees, so you can just do a few taps and you're set. We basically aim to disrupt the barriers between the product on one side, and the user on the other: some of those barriers usually are exchanges poor UI, lack of knowledge about cryptocurrencies basics, price volatility. We destroy those barriers by distributing some of the coins to new users so they don't have to go through poorly designed exchanges, and they won't need to spend any money on them in order to get started. I like to define us as t"he crypto for younger generations" cause it's meant to be the simplest digital currency out there.
Q: Why is your technology special? Can you explain more about the relationship between Directed Acyclic Graph (DAG)?
BB: BANANO is asynchronous, every account has its own block chain — the transactions between different account chains is why it's a DAG. Multiple transactions can be occuring at the same time and reach confirmation in usually less than half a second. It uses a PoS consensus mechanism with "representative" nodes that resolve forks, reach consensus — there's also no mining required, instead each transaction requires a small proof of work equation to be solved for anti-spam purposes.
Q: What's the use cases for Banano?
Bantano: Similar to Nano, Banano is an ideal currency for micropayments due to its sub-second confirmation time and feeless character. Banano is the perfect coin to get started with crypto due to its intuitive UI, education and tipping options as well. It's already used in thousands of transactions per day for tipping content creators on several social media platforms, and official and third party platforms. More integrations are upcoming, and MonkeyTalks and BananoJobs (https://www.reddit.com/r/bananojobs) were recently launched as first platform enabling everyone to use Banano as payment for smaller bounties. There are basically limitless options to use Banano, and we believe integration and use will increase even more while our community further grows.
Q: What kind of ideas/initiatives do you have in mind that can be consolidated in the future and give a positive boost to banano project?
Deiv: Well, one of the ways we are trying to pursue is the gamification of cryptocurency. People usually think about crypto as a space where only investors with lots of money can get started, but we're actually doing something really few projects are doing: democratizing crypto by letting young generations to know more about this space without being investors or speculators. We aim to do that by, for example, creating games that will let you earn BAN by playing them, as we're doing with Banano Runner, which we're currently working on.
Vitex: Well, we have ten winners, the rest of the answers will be outside the top 10🙂 🎁 Now it is time for a surprise, all those who have asked their questions will receive a reward. Please @bbedward, @bantano19, @Deiv. @Purian23 , tell us more about this.
Deiv: [TIP] Awesome to see such good questions here! As promised, I sent a little gift to the personal tipbot of the users tagged here! Sorry but I couldn't tag all of you 😅 In order to withdraw your tasty $BAN be sure to send !help in DM to the tipbot, and if you're experiencing problems or you have some doubts, just reach us here on Telegram! Thanks for everything and have a good day! 💛
Vitex: Thanks. $BAN enthusiasts, I am sure you are here reading all these words from Deiv. It was a great AMA, but it is coming to an end, thanks to everyone who was with us. Thanks BANANO team for taking the time👏. I hope our projects will be able to collaborate even more closely in the future and achieve new successes. Cheers!🎉
End of AMA.
What the Fork is BANANO?
For those of you who don't know BANANO yet: BANANO is a cryptocurrency (forked from NANO in April 2018) powered by DAG technology — here to distrupt the meme economy. Yes, BANANO has memes! And also feeless and near-instant transactions, a highly active community, and active technical development! The BANANO community doesn't take themselves too seriously, but we're here for the long run and we enjoy what we do.
See current BANANO price and market data at Coingecko. All current trading pairs and exchanges here.
On top of this, BANANO is super easy to use and puts an emphasis on free and fair distribution and crypto education. Just try our slick mobile wallet called Kalium and get your first free $BANANO from one of our faucets within minutes!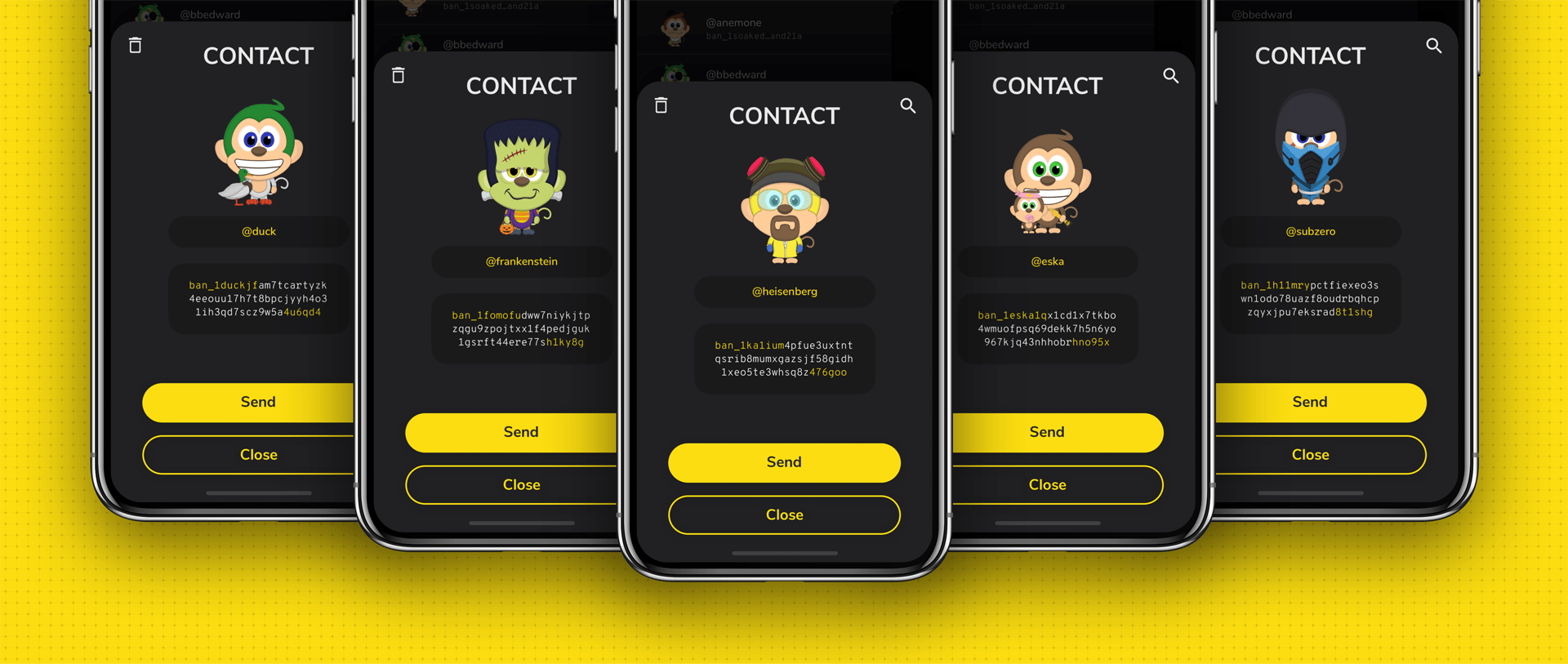 Join the Banano Republic!
BANANO ($BAN) is a fee-less, instant, rich in potassium cryptocurrency powered by DAG technology disrupting the meme economy.
Official Website: banano.cc
Help getting started: banano.how
Yellowpaper (meme-rich and interactive, must-see!)
Join our social channels for updates & giveaways:
Discord | Reddit |Telegram
Medium | Steemit | Publish0x
Twitter | Instagram | Facebook
Youtube | Github | BitcoinTalk
Overviews:
BANANO News | BANANO links | BANANO events
---