cryptomonKeys Update #15: monKeymining — Earn NFTs by Playing the Game Alien Worlds
Mar 11, 2021 • 8 min read
BANANO is a DAG-based cryptocurrency with easy-to-use apps, distributed entirely for free through airdrops, faucets, and games. All happening in a fun, community-driven, meme-rich, and educational atmosphere. The BANANO community project cryptomonKeys just started few months ago with free distribution of BANANO-themed NFTs/digital trading cards and is getting lots of positive vibes from a rapidly growing community.
In January 2021, we announced monKeymining: Earn cryptomonKeys NFTs by playing the game AlienWorlds! This has led to lots of ongoing attention and excitement and loads of new users joining the community and we meanwhile sent over 13k cryptomonKeys NFTs to miners and stakers! Here's an update including the cycle 6 mining and staking rewards that were sent out today!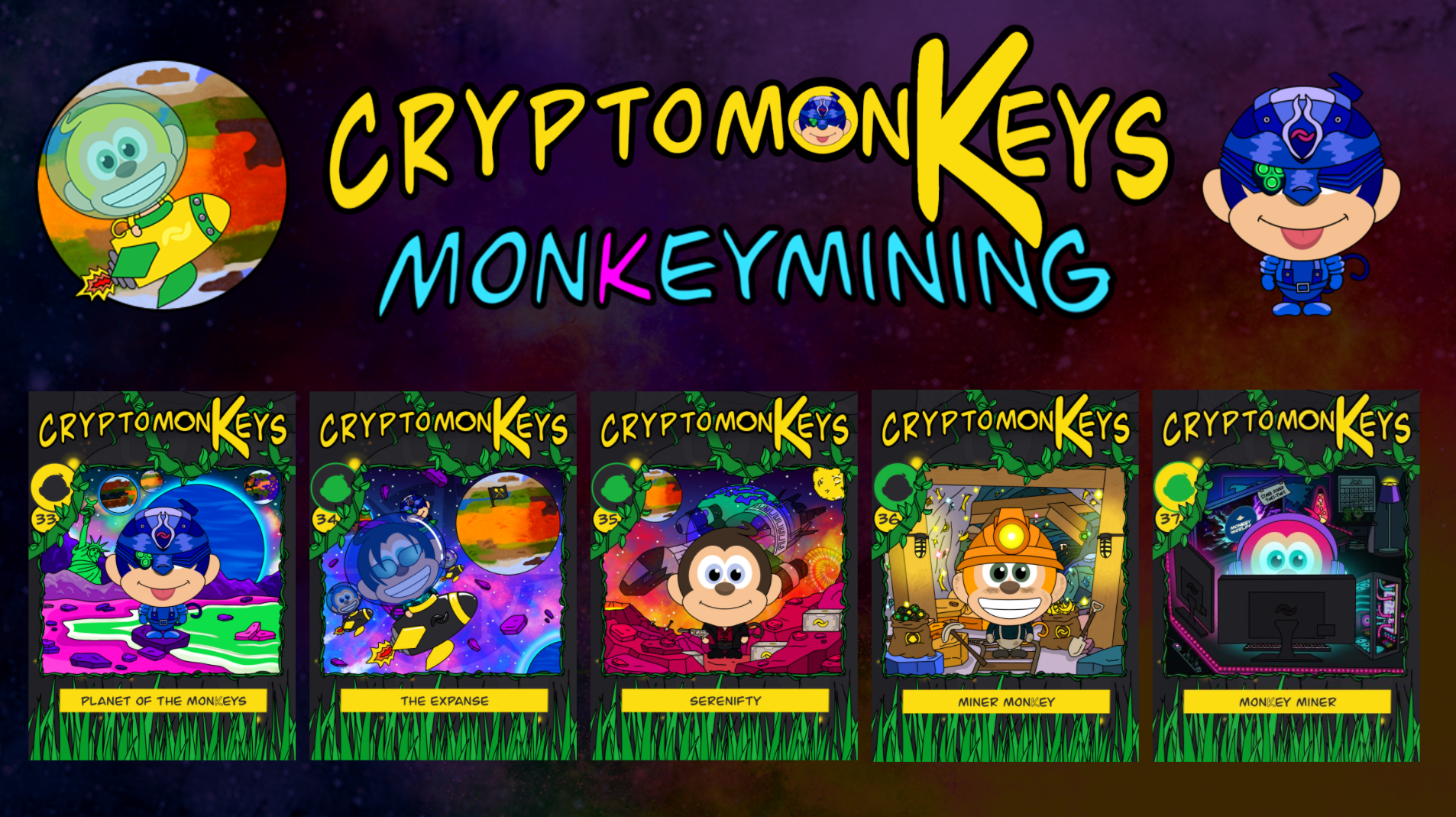 monKeymining and monKeystaking Update
If this is new to you: You can mine cryptomonKeys NFTs by playing the brand new free-to-play/play-to-earn NFT-based game Alien Worlds. You earn by mining and now also by staking just by playing the game, on top of the regular in-game rewards! Learn more below, and also here's a short video summarizing the game quite nicely.
Note: Updated information can always be found at aw.cryptomonkeys.cc
What is Alien Worlds and what does it have to do with cryptomonKeys?
The Alien Worlds Team is building an awesome and innovative NFT-based gaming ecosphere with lots of future possibilities including community governance and implementation of third party NFT projects. The game is currently in open beta and mining is live as its first in-game feature just since a few weeks. Mining doesn't require a powerful computer, and can be done on a smartphone. It only needs time to play. You currently receive Trilium (TLM, the in-game cryptocurrency) and AlienWorld NFTs for mining in Alien Worlds.
If you would like to learn more about Alien Worlds check out alienworlds.io
The cool thing in particular is that the Alien Worlds Team is building a DeFi-NFT-focused metaverse that allows other projects to integrate their NFTs into the game. The cryptomonKeys team decided to engage early on with this new ecosphere and distributes cryptomonKeys NFTs to players mining on lands owned by the cryptomonKeys project. And, on top of regular in-game Trillium and Alien Worlds NFT rewards: monKeymining is here!
Here is how to get started:
If you don't have a WAX Cloud Wallet yet, get one here in just a few seconds: wallet.wax.io (no download required, just sign up with Google or other social media handles)
Next, head over to play.alienworlds.io and log in with your Wax Cloud Wallet (make sure popups are not blocked). Note: If you are new and have no AlienWorlds NFTs yet, just wait a few minutes and try again in case you're running into any error messages. You will receive free NFTs to get started, but this sometimes takes few minutes. If you need support, join our discord and find the channel #monkeymining. We are happy to help you ❤
When you are ready for mining, you will need to set a land you will 'mine' on. To be eligible for cryptomonKeys NFT bonus rewards, select the planet 'Neri' and then use any one of the lands listed below for mining:
Planet Neri, coordinates 35:5, Tree Forest
Planet Neri, coordinates 18:7, Mountains
Planet Neri, coordinates 5:10, Rocky Crater
Planet Neri, coordinates 7:7, Plains
Planet Neri, coordinates 10:13, Sandy Desert
Planet Neri, coordinates 2:10, Dunes
Planet Neri, coordinates 16:2, Icy Desert
Planet Neri, coordinates 23:18, Methane Swampland
NEW: Planet Neri, coordinates 20:5, Geothermal Springs
NEW: Planet Neri, coordinates 19:7, Rocky Desert
NEW: Outposts on other planets (mine where the planet pool is best, stake to Neri!):
Planet Kavian: coordinates 10:2, Icy Mountains
Planet Magor: coordinates 35:16, Active Volcano
Planet Veles: coordinates 12:9, Dunes
Planet Eyeke: coordinates 13:15, Inland River
Planet Naron: coordinates 19:17, Icy Mountains
Newest addition: Planet Veles, coordinates 20:9, Sandy Coastline
All land details can be found here. Any land held on that account is eligible for monKeymining. Also: Stay tuned, we'll add more land options shortly!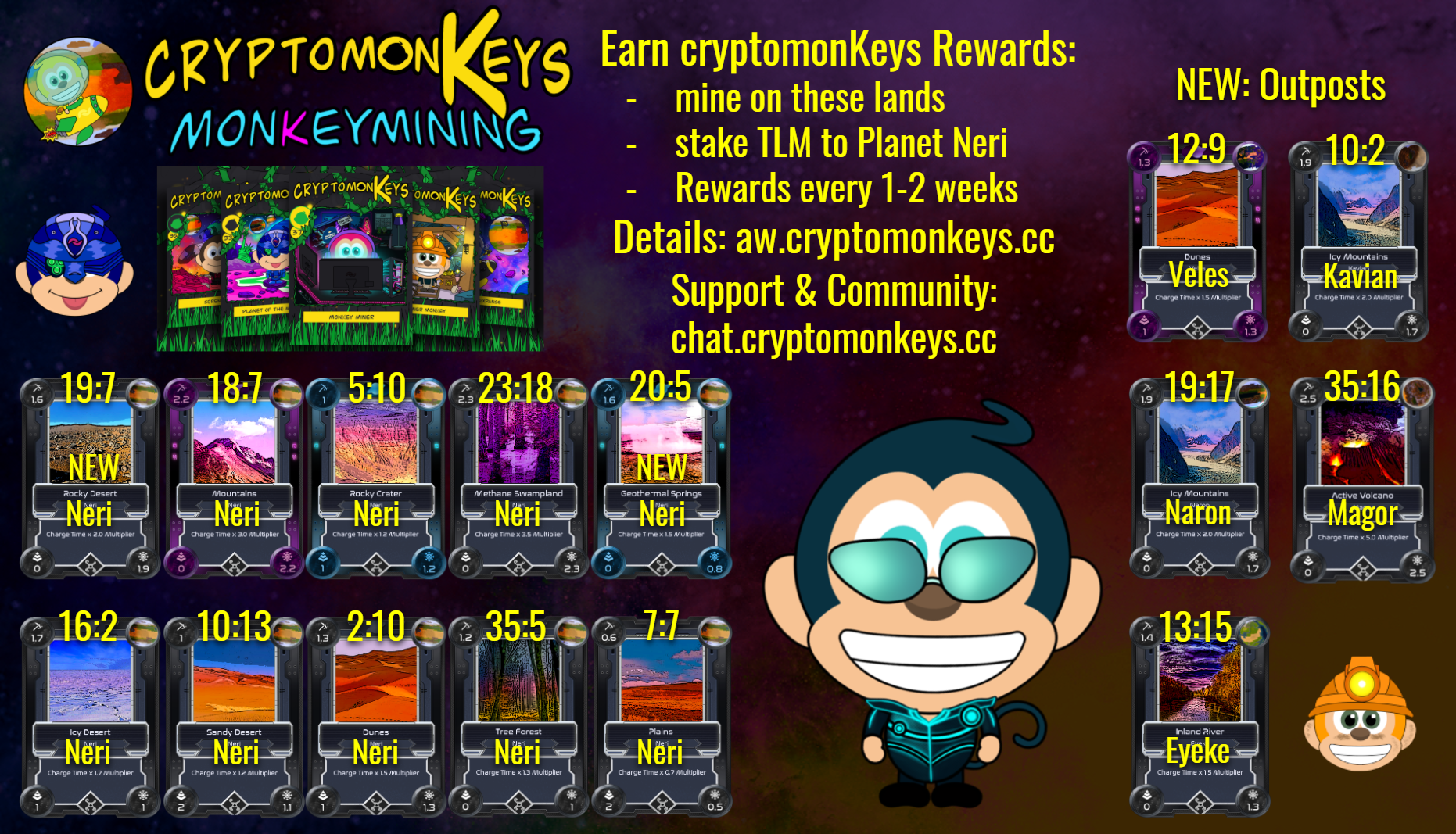 Every time you mine you will receive Trillium (TLM, the in game currency) and have a chance of AlienWorlds NFTs. If you mine on one of the lands owned by the cryptomonKeys project you will additionally get a chance of cryptomonKeys NFTs as rewards! It's that easy, no need to do more from your side, we will pull the data directly from the blockchain every 1–2 weeks, rank everyone and send cryptomonKeys NFTs to your wallet.
Same for monKeystaking rewards: Stake the TLM you earned to Planet Neri. You will receive cryptomonKeys as staking rewards if you cross a certain threshold explained further below, and you'll received more or better cards the more you stake to Neri. Rewards will be paid automatically to the account the NER tokens (which are received when you stake TLM to Neri) are held on. You can check your ranking here. Also, when you stake your TLM to Neri you will indirectly increase mining rewards for all miners on Neri over time.
Just for fun, not mandatory or giving extra rewards currently: When you stake, make sure the decimals are .1919 (e.g. staked amount total 1234.1919) so everyone will recognize your stake as coming from the cryptomonKeys community.
We also plan to eventually send continuous supporters exclusive bonus NFTs, i.e. to users who have constantly ranked well in monKeymining and Neri staking cycles.
If you have any questions, join our discord and ask in the channel #monkeymining for help.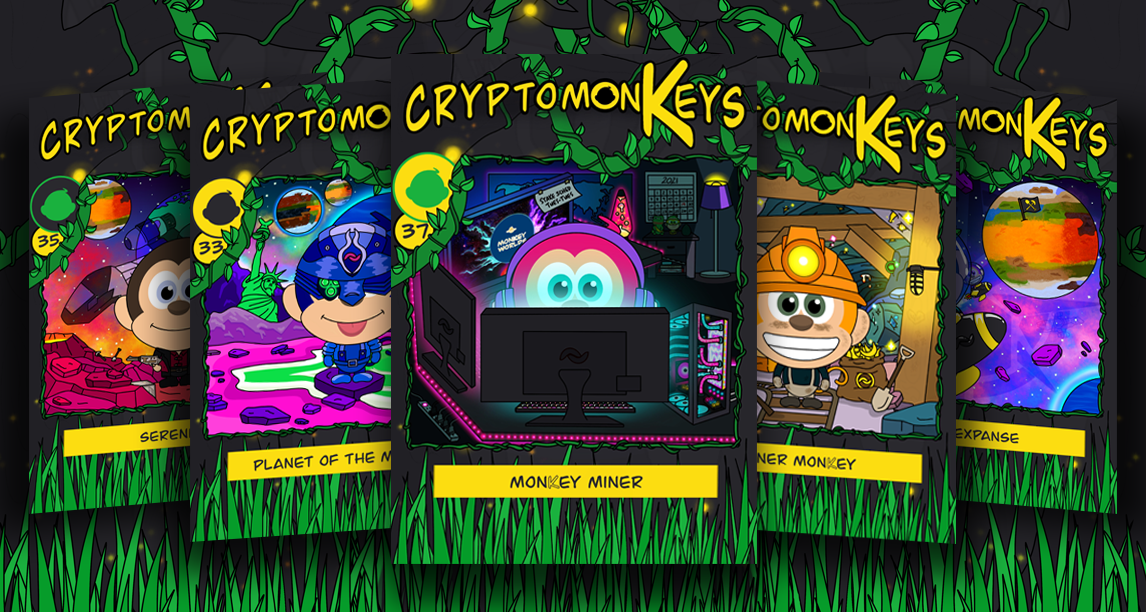 monKeymining and monKeystaking Rewards Details
Note: The following details are unchanged from last cycle with the only exception that the mining threshold for guaranteed cryptomonKeys NFTs within one cycle has been increased from 42 to 69 TLM. They might be further adjusted/updated over time whenever needed. Announced rewards for the respective last cycle are unaffected if any new rules are introduced. Updates and current status can always be found at aw.cryptomonkeys.cc
We will monitor mining over timeframes of 1–2 weeks and pull data for rewards whenever we have time to send those out. This makes it a little less predictable but more feasible from our side. Just mine as much as you can :). For staking, we will take a snapshot every 1–2 weeks as well and send out rewards to top stakers.
Everyone who mines at least 69 TLM on one of the cryptomonKeys lands within each cycle will get cryptomonKeys NFT rewards. All others will still have a low chance on randomly dropped cryptomonKeys NFTs.
The Top 199 users staking TLM to Neri (ranking here) at the time of snapshot will get cryptomonKeys NFT rewards. All other stakers in the Top 500 will still have a low chance on randomly dropped cryptomonKeys NFTs.
In general, the more you mine or stake the higher chances you'll have on more (and more rare) cryptomonKeys NFTs. In addition, parts of rewards are distributed randomly.
Mining rewards and staking rewards will be sent out every 1–2 weeks
Consider this an open beta and the first step of our long-term connection to the Alien Worlds ecosphere (with likely higher rewards now than in the future). We will provide regular updates and are already planning special rewards for loyal miners and stakers, and have lots of ideas to come to gamify this even further from our side.
Reward Summary cycle #6
monKeymining
Rewards were sent out for all mining events happening on specified cryptomonKeys lands from February 25, 2021 (19:19 UTC) to March 9, 2021 (19:19 UTC).
A total of 2940 different users (last cycle: 2706) mined a total of 880k TLM (last cycle: 918k TLM) during this timeframe. 1854 users mined at least 69 TLM.
Top 19 Miners this cycle: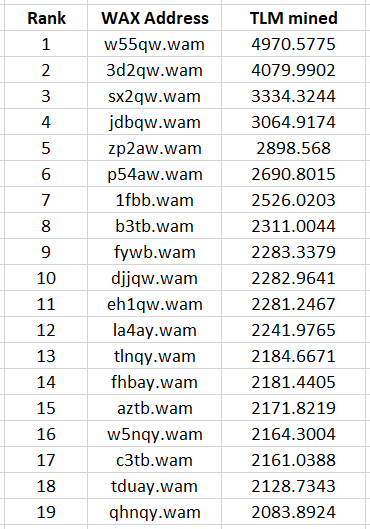 monKeymining reward details:
Note: This is provided in full detail for now to make everything more transparent for the community. Future reward allocation may not be provided at this level of detail to minimize the workload for the team.
Top 1 miner: Bear monKey Mint #1 cryptomonKey
Top 19 miners: Rare cryptomonKey
Top 91 miners: Uncommon cryptomonKey
Top 1854 miners (mined >69 TLM): Common cryptomonKey
42 Rare cryptomonKeys sent to random miners
19 Uncommon cryptomonKeys sent to random miners
91 Common cryptomonKeys sent to random miners
Total cryptomonKeys cards sent as monKeymining rewards: 2117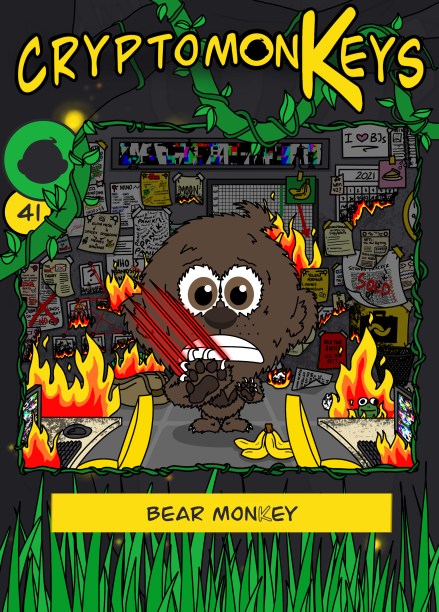 monKeystaking rewards
We also reward users staking TLM to Planet Neri with cryptomonKeys NFTs. In this fourth cycle, the snapshot of TLM stakers to Neri (=NER holders) was taken on March 9, 2021 (21:49 UTC). As announced we have sent out guaranteed cryptomonKeys NFTs rewards to all users ranked within the Top 199 stakers (current staking rankings can always be found here). Everyone in the Top 500 had also chances on bonus cryptomonKeys NFTs.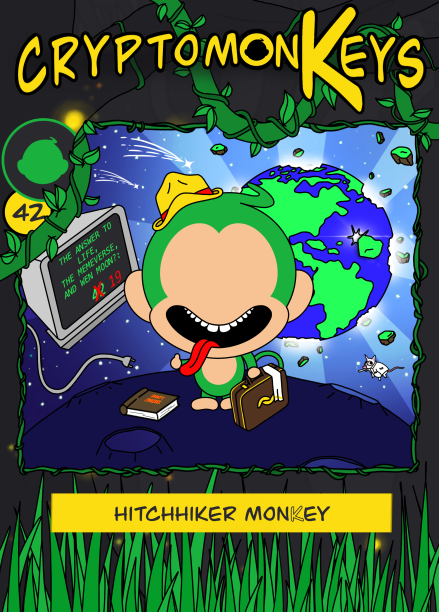 Staking Rewards sent out:
Top 1 staker: Bull monKey Mint #1 cryptomonKey
Top 42 stakers: Rare cryptomonKey
Top 91 stakers: Uncommon cryptomonKey
Top 199 stakers: Common cryptomonKey
42 Rare cryptomonKeys sent to random users in the Top 500
42 Uncommon cryptomonKeys sent to random users in the Top 500
Top 19 stakers this cycle (official accounts excluded):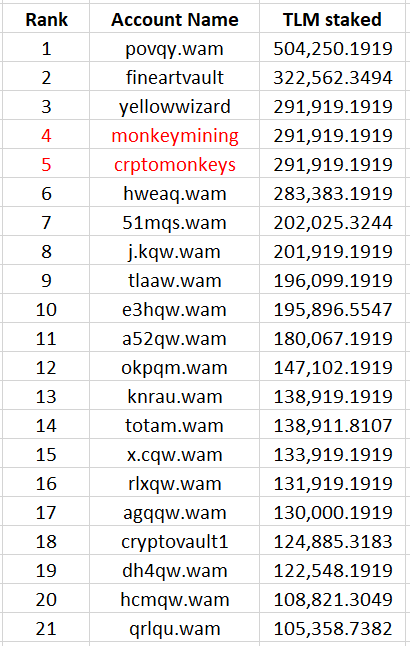 Cycle summary and Outlook
crytptomonKeys sent out for mining: 2117
cryptomonKeys sent out for staking: 417
TOTAL sent: 2534 cryptomonKeys
Note: Generally more cryptomonKeys were sent out to miners than to stakers, simply because we have way more miners than qualifying stakers. As inititally announced the rewards now have generally been resduced a little compared to the first few cycles, the reason simply being that we did send quite high rewards initially, that we don't have enough more rare cryptomonKeys to send to everyone, and that we don't want to send the same common cryptomonKeys to everyone all the time. We will try to increase rewards especially for higher ranked miners and stakers in future cycles and, as mentioned above, reward especially loyal miners and stakers with exclusive NFTs in the future. All data from cycle 1 will be taken into account for that.
Since we started few weeks ago, a total of 13307 cryptomonKeys sent out for monKeymining and staking:

Total estimated market value of all cryptomonKeys sent out so far for monKeymining/monKeystaking: 488k WAX/ $80k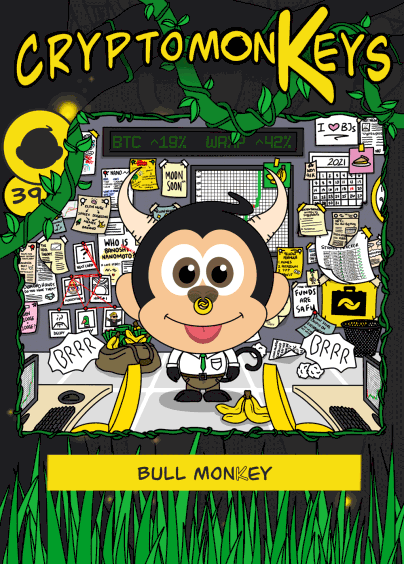 Stay tuned for more cryptomonKeys to be revealed shortly, and see you on Neri, the Planet of the monKeys!
What are cryptomonKeys?
cryptomonKeys is a freely distributed, community-driven, meme-rich digital trading card series based on NFT technology, here to disrupt the meme economy.
This upcoming BANANO community project has NFT giveaways and events running regularly on all platforms, especially on Discord! Learn more here:
Website | Discord | Twitter | Instagram | Telegram
Trade cryptomonKeys at AtomicHub: live trading offers | sale history
We have giveaways and events running regularly on all platforms! Join/follow us to not miss any — and thanks for sharing with your friends!
More at Telegram: news channel | card feed channel | Spanish group
Collection stats at: AtomicHub | Waxplorer | CryptoSlam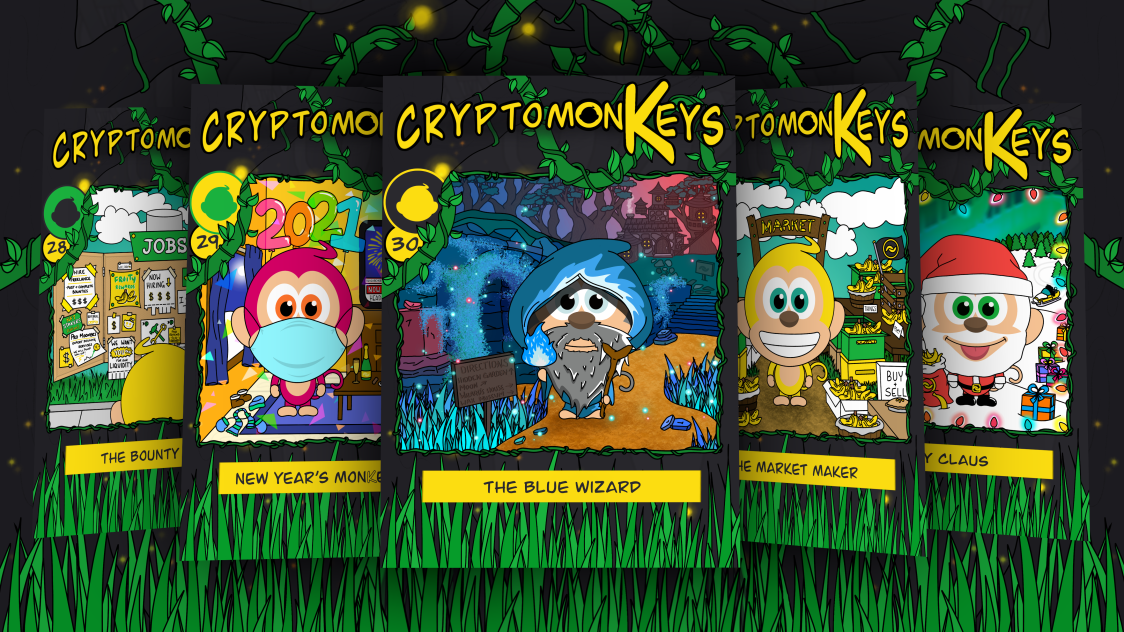 Join the Banano Republic!
BANANO ($BAN) is a fee-less, instant, rich in potassium cryptocurrency powered by DAG technology disrupting the meme economy.
Official Website: banano.cc
Yellowpaper: banano.cc/yellowpaper
Help getting started: banano.how
Community News: The Daily Peel
Join our social channels for updates & giveaways:
Discord | Twitter | Telegram | Reddit | Youtube
Publish0x | Uptrennd | LBRY | Medium | Hive
Github | BitcoinTalk | Instagram | Facebook | TikTok
Overviews:
BANANO News | BANANO links
---