cryptomonKeys Update #29: Announcing monKeystacks — a new layer of monKeyfied community-made NFTs
Oct 29, 2021 • 4 min read
A little over one year ago, cryptomonKeys was launched as BANANO community project with BANANO-themed NFTs being distributed entirely for free! It's been huge fun and a huge success so far, with meanwhile 68 cards released, 100k+ total NFTs minted, $270k+ total secondary market sales, and 15k+ different wallets holding cryptomonKeys NFTs.
Now, cryptomonKeys is going for the next level by introducing monKeystacks, a new layer of monKeyfied community-made NFTs! Details below!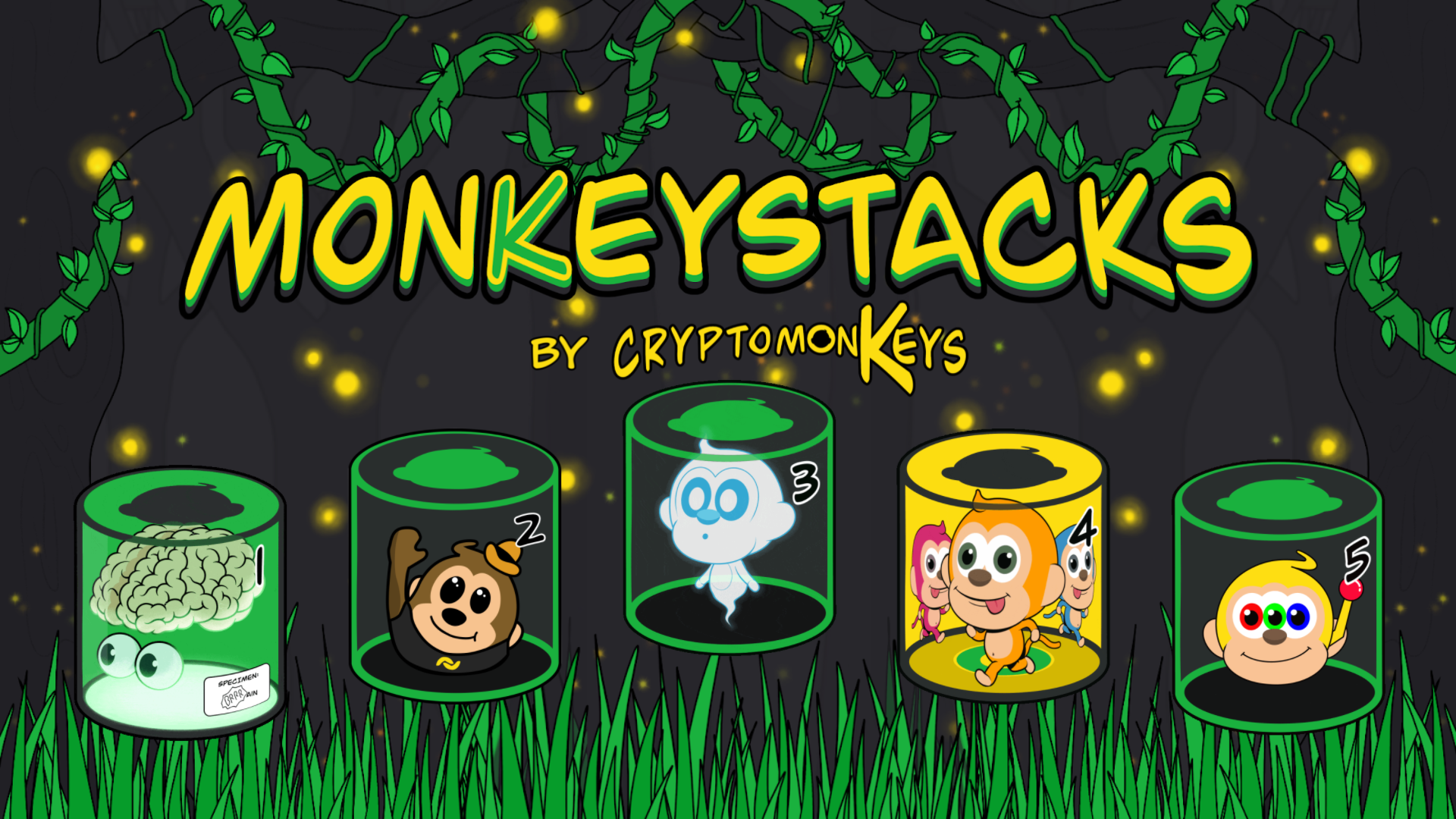 What are monKeystacks?
In brief, monKeystacks is a new series of NFTs by cryptomonKeys. It'll be just a little more crazy, more experimental, and much more community-driven than the cryptomonKeys core collection. Everyone can get involved with ideas, artwork, and free ways of distribution!
What's the difference?
The cryptomonKeys core collection will continue as what it's been: A freely distributed, meme-rich digital trading card series, with consistent style, clear-cut trading cards with detailed artwork, and no shenanigans. And of course over time we'll release more and more cryptomonKeys mostly created by our Chief Artist SoggyApplePie, and released into the wild freely and fairly.
monKeystacks will become a new complementary layer of NFTs by adding specific utility for downstream apps we have in mind, by experimenting with style, design, creation process and distribution, and most importantly, by being truly created by our community.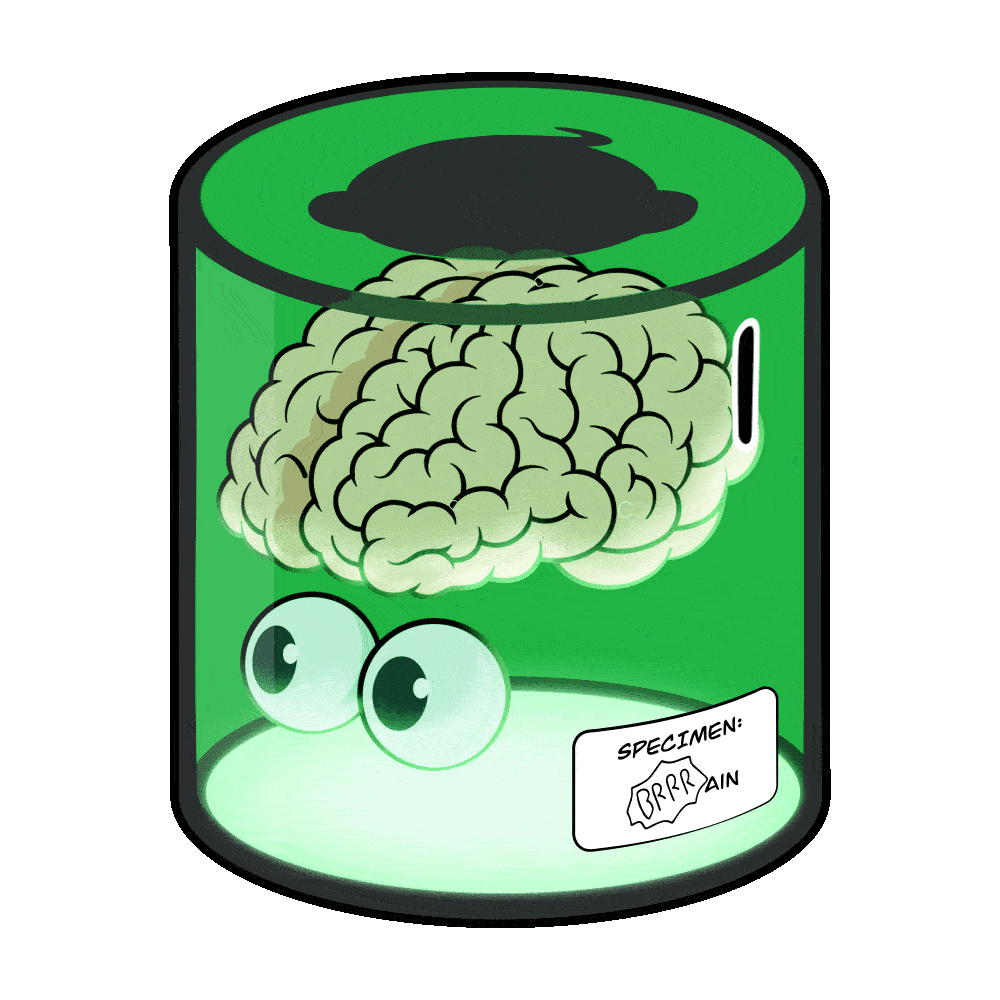 Practically, this means that monKeystacks will involve community members and their ideas and artwork much more and much more flexible than the core collection could ever do that. Any artwork related to the BANANO or cryptomonKeys ecosystem is fair game, anyone can propose ideas for motives or NFT distribution, and anyone can submit artwork for inclusion in the monKeystacks NFT collection. Of course the cryptomonKeys extended team will have a final say to ensure sufficient quality and originality (and to make sure there are no copyright infringements), but we particularly welcome crazy ideas and innovation here, and encourage community members to stand up and take responsibility throughout the whole process, including NFT distribution. All contributors will be rewarded with NFTs. Everything can be decided by the community.
Two more things:
Of course we'll give proper credit to all artists as well, aiming to provide a platform facilitating exposure of their artwork to a huge community.
Distribution of all monKeystacks NFTs has to be entirely for free, similar to the cryptomonKeys core collection.
Few examples for clarity:
You created a great piece of BANANO or cryptomonKeys themed artwork you'd like to see becoming an NFT, but you don't have ideas how to distribute it yet? No problem, just submit the artwork and we'll all brainstorm together!
You're planning a BANANO event and would like to send all participants an NFT, like and a participation badge? No problem, just propose this idea. Other community members can help with the artwork if needed, and we'll get it done.
You have a great idea for a meme/NFT based on current events but don't know how to create it? No problem, propose your idea and team up with others!
You are an influencer and want to give away monKeystacks in your community? No problem, we can help you!
You are a game developer and want to create and use monKeystacks for a game/app you're developing? No problem, get in touch!
For completeness, the core team also will create monKeystacks themselves and reward collectors, loyal members, event participants etc as well. We already have 1919 ideas and prepped the first 5 for the launch today. HUGE thanks to our community members Kinnester and Virtugrana for designing those! Join our discord for currently running giveaways and a chance to get some! We would love if you join in and contribute to future monKeystacks as well!
Want to get involved?
Regardless if you want to contribute with ideas, art or distribution: Join the cryptomonKeys discord if you haven't yet, and check the channel #monkeystacks-info to get started! Let's mint it!
Note: We do not define more at this stage here since we believe the best way to shape out details is engaging the community and doing this together over time. 🐒 💚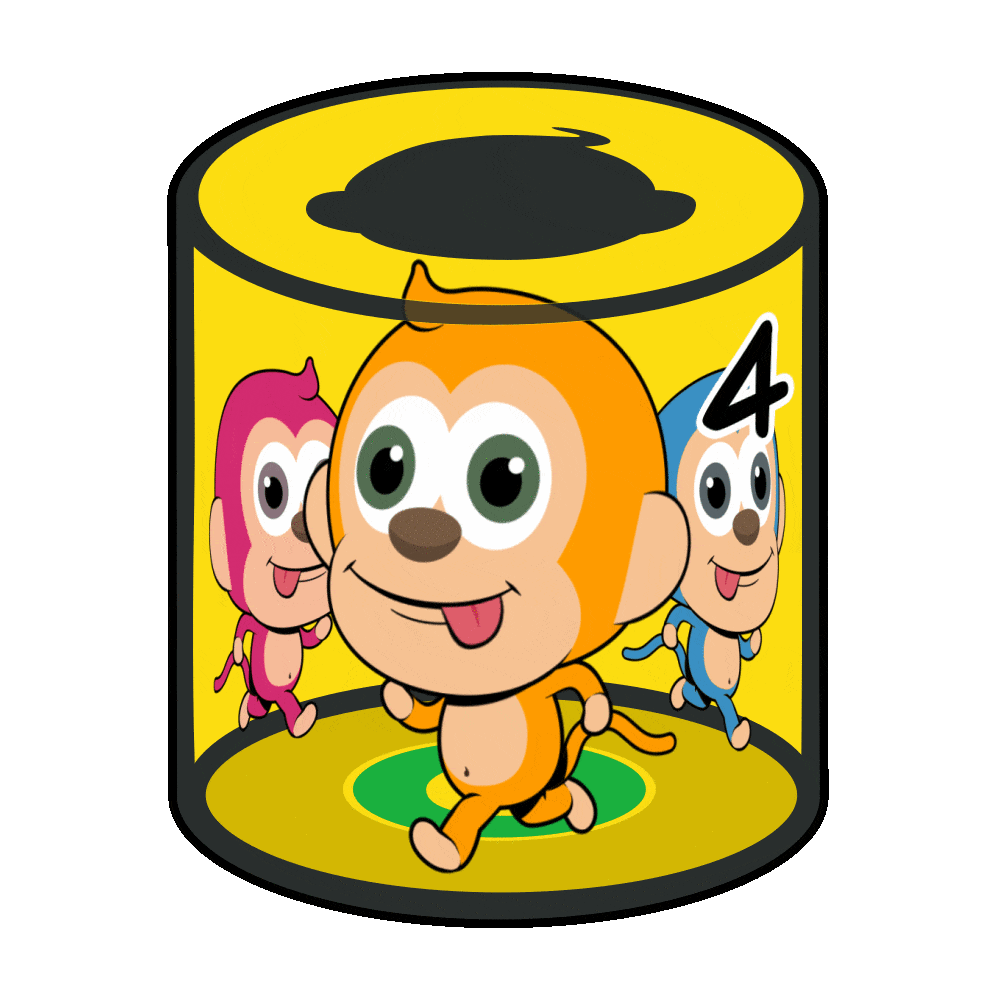 Disclaimer
Any mention of a third party platform, product, service or website in this article does not imply an endorsement by the BANANO core team. All information is provided to the author's best knowledge at the time of writing, will likely not be updated and thus might be outdated when this article is read in the future. CryptomonKeys is a community project created by two BANANO core team members, SoggyApplePie and bantano. CryptomonKeys is building on the BANANO MonKey concept (visual account representatives) created and developed by Yekta and bbedward from the BANANO core team. This article was written by bantano with lots of help from SoggyApplePie and Vyryn.
Join cryptomonKeys
cryptomonKeys is a freely distributed, community-driven, meme-rich digital trading card series based on NFT technology, here to disrupt the meme economy.
Website | Discord | Twitter | Instagram | Telegram
Trade cryptomonKeys at AtomicHub: live trading offers | sale history
Join the Banano Republic!
BANANO ($BAN) is a fee-less, instant, rich in potassium cryptocurrency powered by DAG technology disrupting the meme economy.
Official Website: banano.cc
Yellowpaper: banano.cc/yellowpaper
Help getting started: banano.how
Community News: The Daily Peel
Join our social channels for updates & giveaways:
Discord | Twitter | Telegram | Reddit | Youtube
Publish0x | Uptrennd | LBRY | Medium | Hive
Github | BitcoinTalk | Instagram | Facebook | TikTok
Overviews:
BANANO News | BANANO links
---