Halloween monKey Design Contest (BANANO and NFT prizes)!
Oct 14, 2020 • 5 min read
BANANO is a DAG-based cryptocurrency with easy-to-use apps, distributed entirely for free through airdrops, faucets, and games. And all this is happening in a fun, community-driven, meme-rich, and educational atmosphere.
Built on top of the BANANO MonKey concept (visual account representatives), cryptomonKeys very recently launched as an NFT-based BANANO community project with freely distributed monKey-themed digital collectible cards. Since reception has been overwhelmingly great so far and with Halloween around the corner, let's do a Halloween monKey Design Contest with BANANO and cryptomonKeys as prizes! Your creation might even become an NFT! Details below!
Read to the end, we included an additional giveaway for the non-artists amongst you!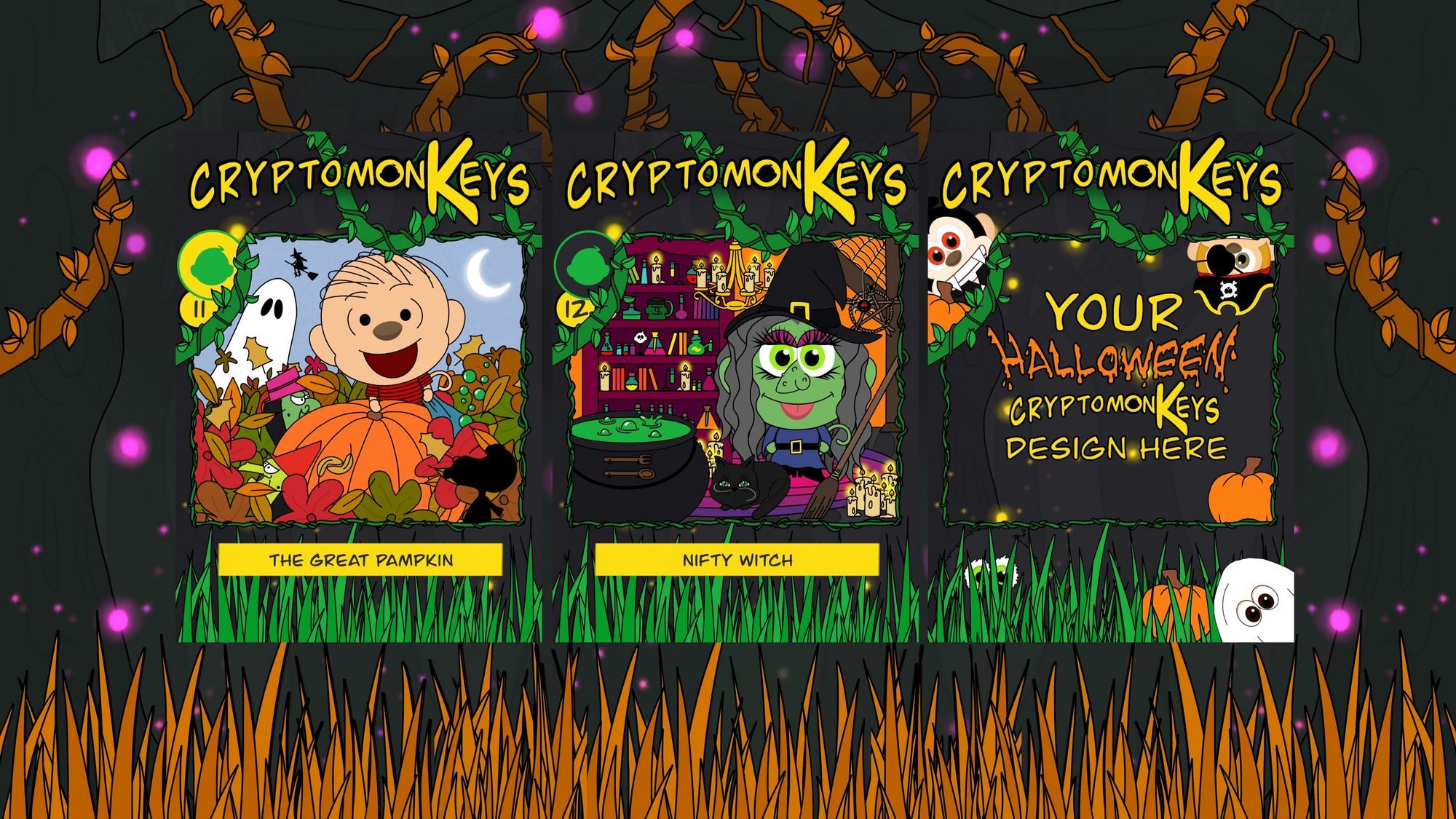 Halloween monKey Design Contest: How to Participate
Create a Halloween-themed monKey design, including at least one modified monKey and some context/background of your choice. You can match the series style so far or go with your style, however the monKey needs to be a BANANO monKey, not a simple random monkey. For orientation you can check out the gallery of previously released cryptomonKeys here.
You can embed your creation in the following card directly or submit separately, both works! Ideal Graphics resolution and dimensions:
Total card dimensions: 2380 x 3320 pixel
Main card image dimensions: 2150 x 1870 pixel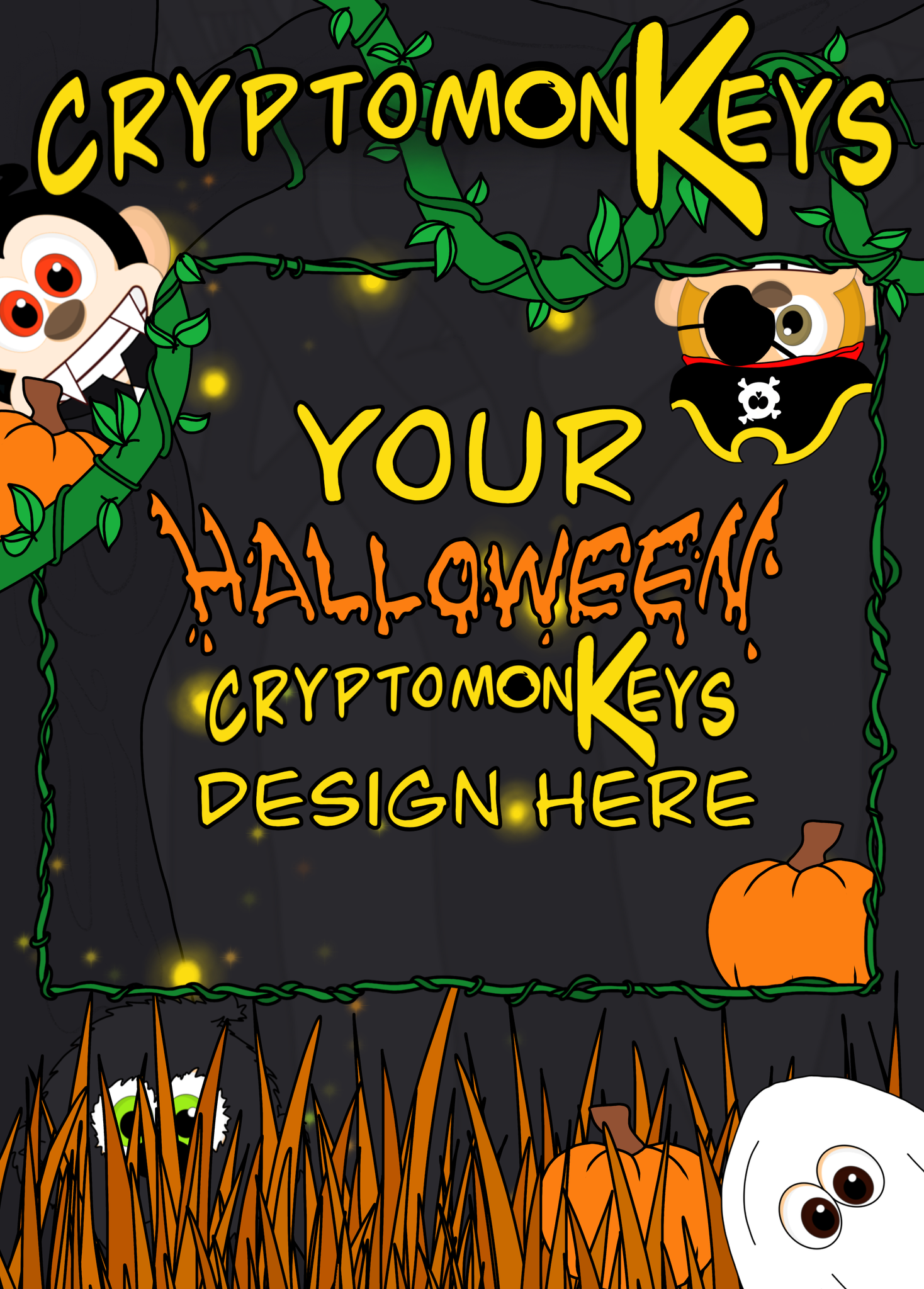 Submit your image creation together with an image title and your Wax address on the cryptomonKeys Discord in the channel #contest-submissions (you will also find our template at high resolution there) In case of questions ask SoggyApplePie or bantano at discord.
If you have no Wax address yet, get one here easily.
Submission Deadline: October 23rd
Some More Rules
Original artwork only— you cannot use any copyrighted or licensed material created by others whatsoever. You however can use any BANANO monKey of course, it just needs to be modified and be Halloween-themed.
You are encouraged to additionally share your creation in the BANANO Discord server (channel #not-so-dank-memes) and on social media, however please tag our official account and mark your post as 'community contest contribution', or clearly mention that your image was made for our contest. This is to avoid confusing people about which images are official cryptomonKeys NFTs and which are custom creations. Also please don't mint your creation as NFT yourself, especially not with our official logo/card design.
Prize Pool
Total Prize Pool: 100000+ BANANO and cryptomonKeys for the 19 best submissions!
🥇 1st — 20000 BAN and 1 Legendary +2 Epic + 2 Rare cryptomonKeys!
🥈 2nd — 10000 BAN and 1 Legendary +1 Epic + 1 Rare cryptomonKeys!
🏅 3rd-10th —5000 BAN and 1 Epic + 1 Rare cryptomonKeys!
🙊 11th-19th — 3000 BAN and 1 Rare cryptomonKey
In addition, any submission that gets minted as cryptomonKeys NFT (with or without modifications) will receive additional cards depending on card rarity (Legendary: 1; Epic: 2; Rare: 4; Uncommon: 6; decision about rarity by core team).
A panel of loyal community members will serve as judges. Community reactions will be taken into consideration. Independent of the voting and placement of winners, the core team will take the final decision if a design gets minted or not.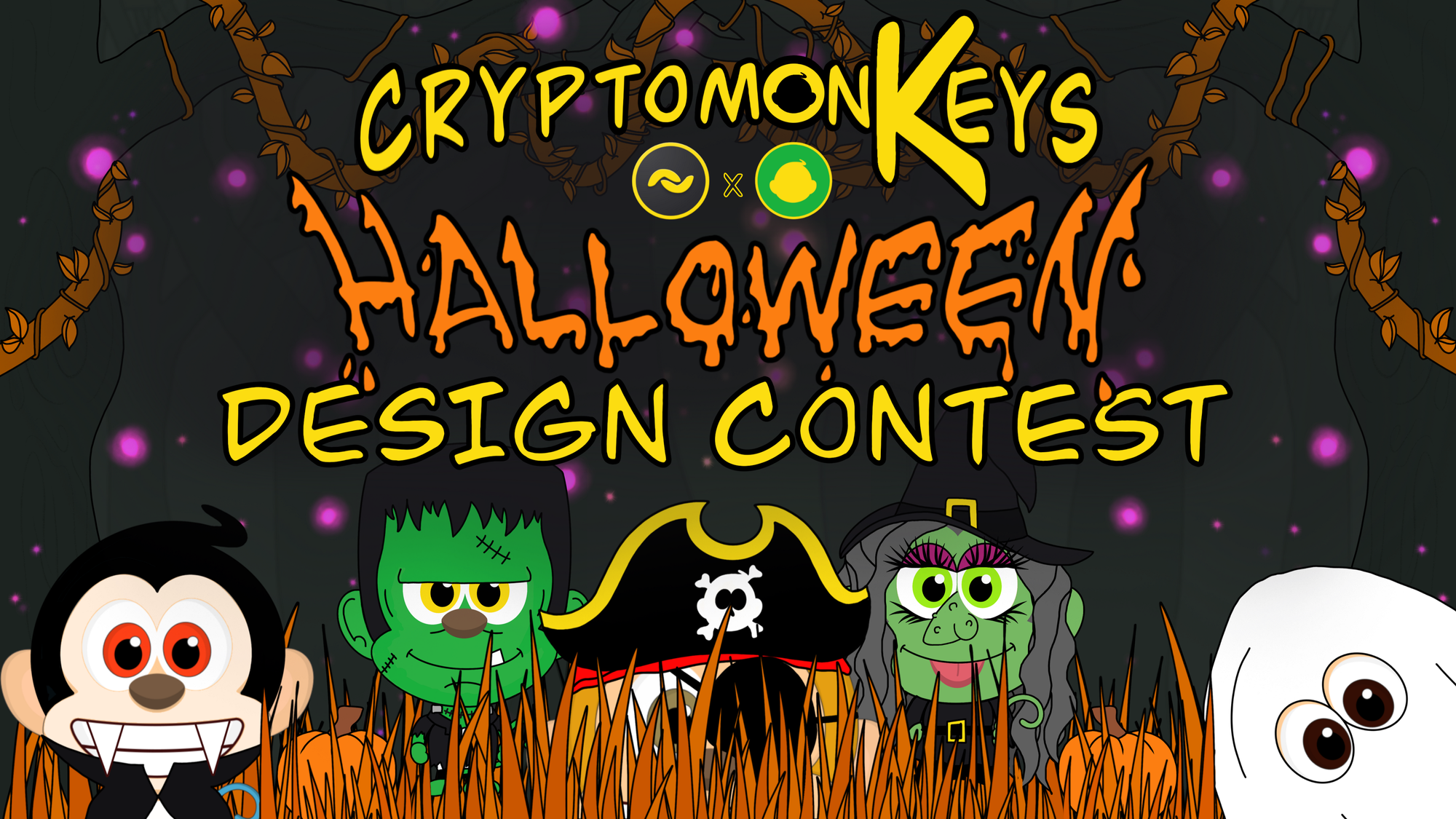 Not an artist? There are many other ways to get free cryptomonKeys!
Currently running giveaways:
Card 5 Instagram Giveaway
Card 6 Twitter Giveaway
Card 6 Instagram Giveaway
Card 7 Twitter Giveaway
Card 7 Instagram Giveaway
Card 8 Twitter Giveaway
Card 8 Instagram Giveaway
Card 9 Twitter Giveaway
Card 12 Twitter Giveaway
In addition, join our social media linked below to get notified about more giveaways, events and airdrops!
Additional Publish0x Giveaway right now:
Post your BANANO address together with your Wax address as one comment below this publish0x post, we will randomly select at least 10 random winners to receive 1000 BANANO and 1 random cryptomonKey after this giveaway ends (ends October 31).
Join and collect cryptomonKeys!

CryptomonKeys is a freely distributed, community-driven, meme-rich digital trading card series based on NFT technology, here to disrupt the meme economy.
Website | Discord | Twitter | Telegram | Instagram
Trade cryptomonKeys at AtomicHub: live trading offers | sale history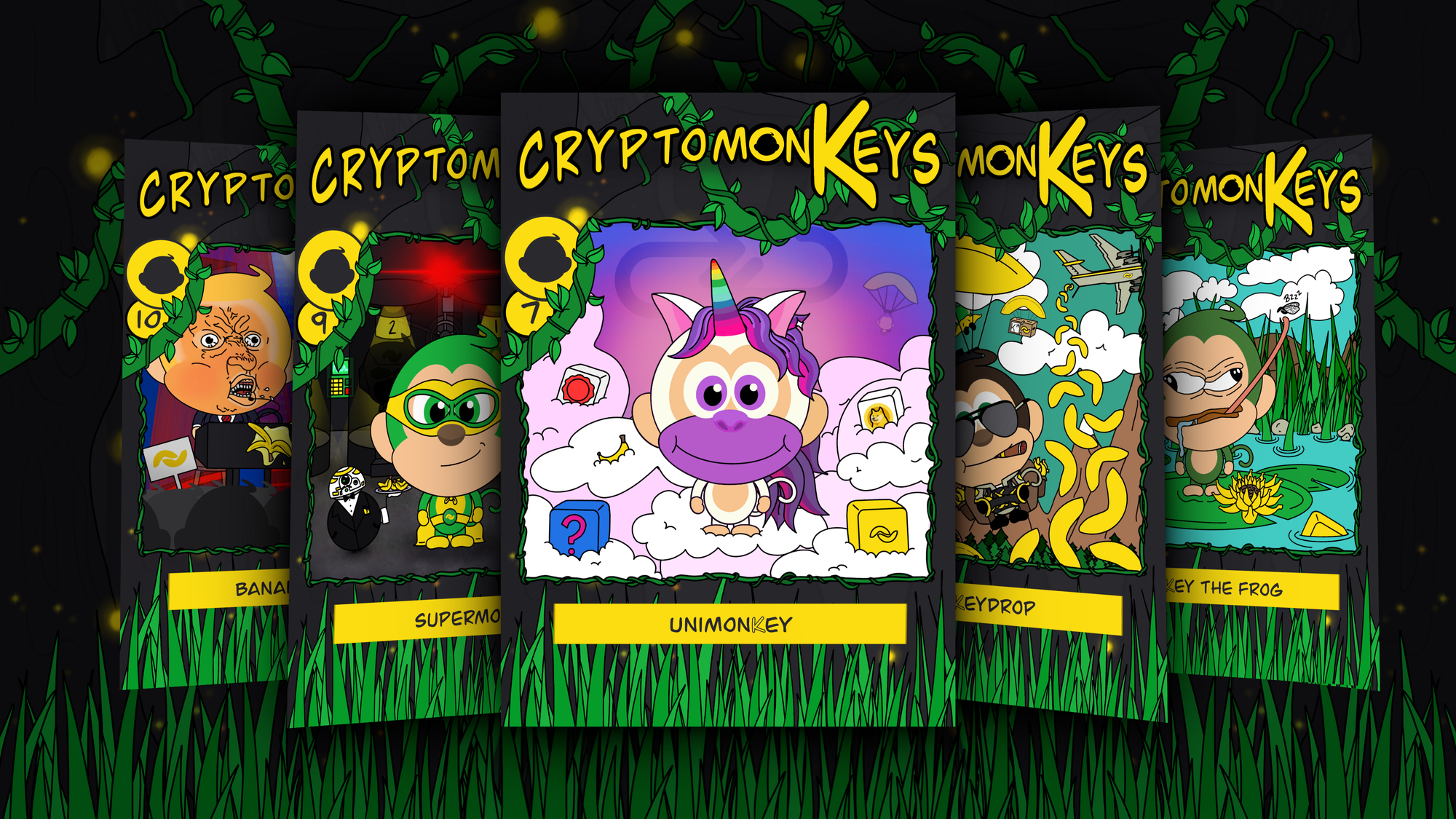 Disclaimer & Credits
Any mention of a third party platform, product, service or website in this article does not imply an endorsement by the BANANO core team. All information is provided to the author's best knowledge at the time of writing, will likely not be updated and thus might be outdated when this article is read in the future. CryptomonKeys is a community project created by two BANANO core team members, SoggyApplePie and bantano. CryptomonKeys is building on the BANANO MonKey concept (visual account representatives) created and developed by Yekta and bbedward from the BANANO core team. This article was written by bantano with help from SoggyApplePie. Artwork by Virtugrana and SoggyApplePie.
What the Fork is BANANO?
For those of you who don't know BANANO yet, it's obviously perfect to just read our animated, meme-rich and interactive Yellowpaper! BANANO is a cryptocurrency (forked from NANO in April 2018) powered by DAG technology — here to distrupt the meme economy. Yes, BANANO has memes! And also feeless and near-instant transactions, a highly active community, and active technical development! The BANANO community doesn't take themselves too seriously, but we're here for the long run and we enjoy what we do. On top of this, BANANO is super easy to use and puts an emphasis on free and fair distribution, gamification and crypto education.
See current BANANO price and market data at Coingecko or Coinmarketcap. All current trading pairs and exchanges here.
Join the Banano Republic!
BANANO ($BAN) is a fee-less, instant, rich in potassium cryptocurrency powered by DAG technology disrupting the meme economy.
Official Website: banano.cc
Yellowpaper: banano.cc/yellowpaper
Help getting started: banano.how
Community News: The Daily Peel
Join our social channels for updates & giveaways:
Discord | Twitter | Telegram | Reddit | Youtube
Publish0x | Uptrennd | LBRY | Medium | Hive
Github | BitcoinTalk | Instagram | Facebook | TikTok
Overviews:
BANANO News | BANANO links | BANANO events
---