Shout-Out to The Daily Peel — A Fun and Interactive Crypto Community Project for Everyone!
Apr 7, 2020 • 5 min read
The introduction will be a bit longer this time since something more than noteworthy is happening here. This is about unprecedented dynamics shaping out one of the most beautiful ecospheres in the whole crypto space! It's still early, but won't want to miss this movement. If you are in a hurry, scroll down a little to the main shout-out to 'The Daily Peel'. Or come back later with more time 😜 (seriously, this stuff is good, people!).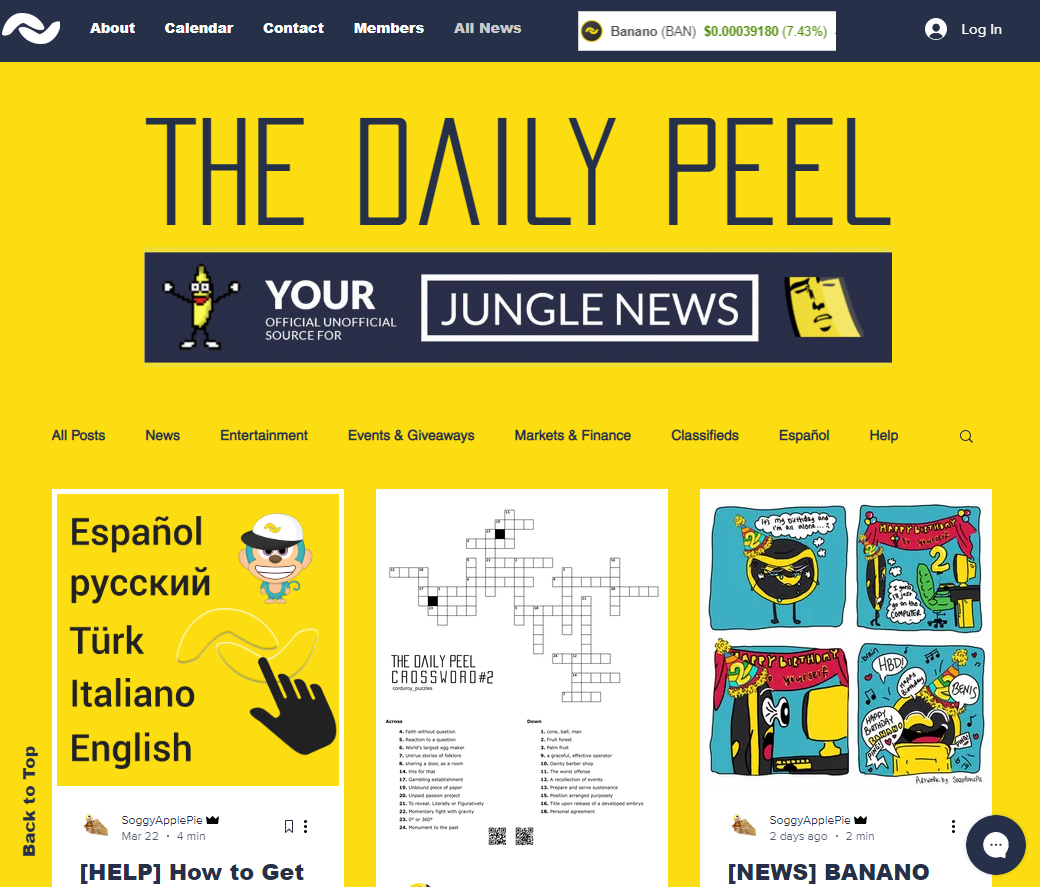 BANANO is THE Crypto Community Movement
BANANO is a unique crypto experiment. In short, BANANO is a DAG-based next-generation cryptocurrency with ultrafast and feeless transactions, distributed 100% for free without any funding since 2 years. BANANO is still small but it's used in thousands of transactions every week and already listed on 9 exchanges. Distribution is executed by the core team and many moderators and supporters. BANANO distribution aims to be as fair as possible through gamification, an educational attitude, and yes, with memes. Memes, games, and other activities like contests and live events are a great way to reach people who may not have the time or interest in learning the technical details of how crypto currency works, and it's the most efficient way to enable them to use crypto responsibly.
BANANO is THE Crypto Community Movement. Plenty of BANANO moderators and supporters are tirelessly organizing officially funded fun contests, giveaways, crypto puzzles and more which plays a significant role in the project's goal of ongoing free and fair distribution. Most of the ideas for events come from and become realized by community members who are eager to contribute. Not out of obligation or expectation — simply out of inspiration, love, and excitement for a truly great thing. BANANO is a beautiful project that just started to unfold. And now, our community just created 'The Daily Peel': a bantastic, interactive website full of puzzles, games, events, opinions, interviews, insider info on the Jungles of BANANO, and more! But not only is it packed with loads of fun and always giving you the latest news, memes, and jokes from the BANANO ecosphere, it is also helping people getting started with BANANO, and helping highlight the importance of teaching financial literacy to young and old.
Shout-out to 'The Daily Peel'
Want to read the latest Jungle news? Interested in earning free BANANO by solving puzzles and learning something about crypto along the way? Do you have an opinion that you want to share about the markets, or some constructive suggestions for the team? Maybe you think it's fun to collaborate with others on new giveaway ideas, or to program a new faucet? 'The Daily Peel' is the perfect platform to get started with all of the above and MORE — and it's created by BANANO community members, for everyone!
'The Daily Peel' is a newspaper BY THE COMMUNITY, FOR THE COMMUNITY.
Some more features from 'The Daily Peel' summarized by SoggyApplePie, one of the founders:
We have a calendar (updated daily) including all events and contests happening across BANANO social media accounts, so you're always up to date no matter which community you hangout in
We are expanding WHO can participate in and enjoy the free and fair distribution
publishing puzzles directly onto the site and making event information accessible to everybody in one central location
Post personal ads, as well as buy/sell/enlist help for specific or specialized skills, for education for crypto in general, and for BANANO in particular
Anybody can write to The Daily Peel and share their opinions, experiences, and hopes with/for the community!
We can post on your behalf, or you can become a member and post your own content on The Daily Peel
We include public surveys and encourage suggestions which can be taken to the BANANO team
We aim to use 'The Daily Peel' 'as a tool to recognize exceptional contributions, new members, and changes within the internal structure of the community
'The Daily Peel' should be considered a platform for the community to share, seek change, and express themselves
It's also made to share talents, memes, satirical content, and stories of what happens in your jungle
'The Daily Peel' is a newspaper BY THE COMMUNITY, FOR THE COMMUNITY — We hope to connect our communities and share the BANANO culture that we all love
Now head over to The Daily Peel and register to get started: daily-peel.com, or check out few examples below first: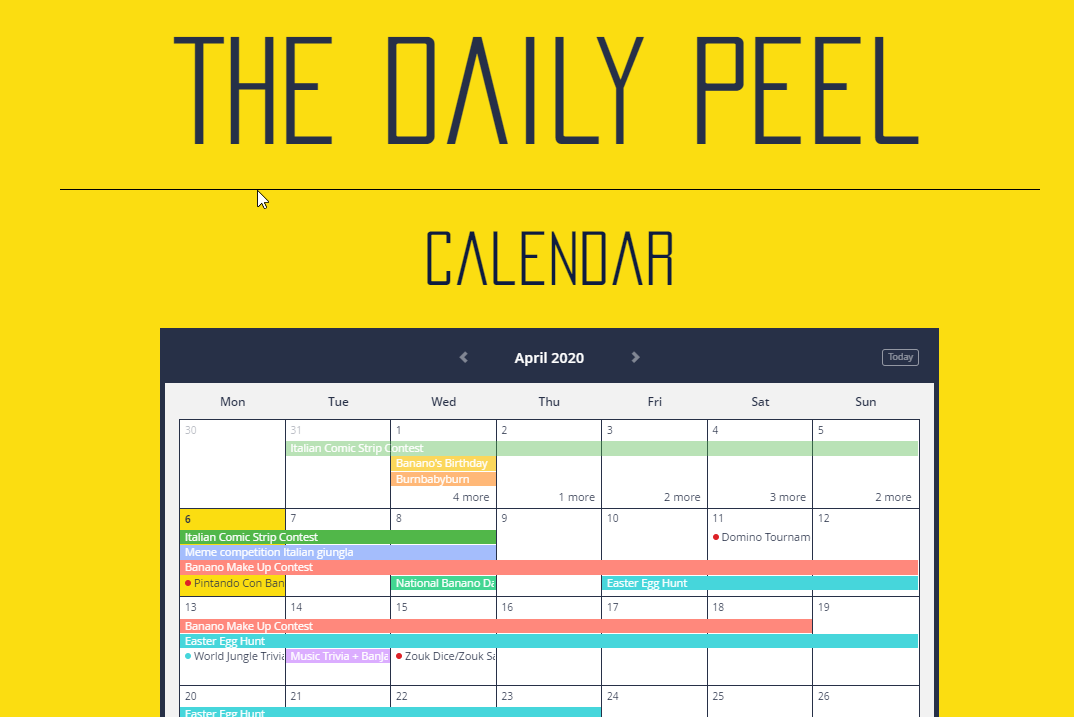 Want to discuss or share your opinion? No problem!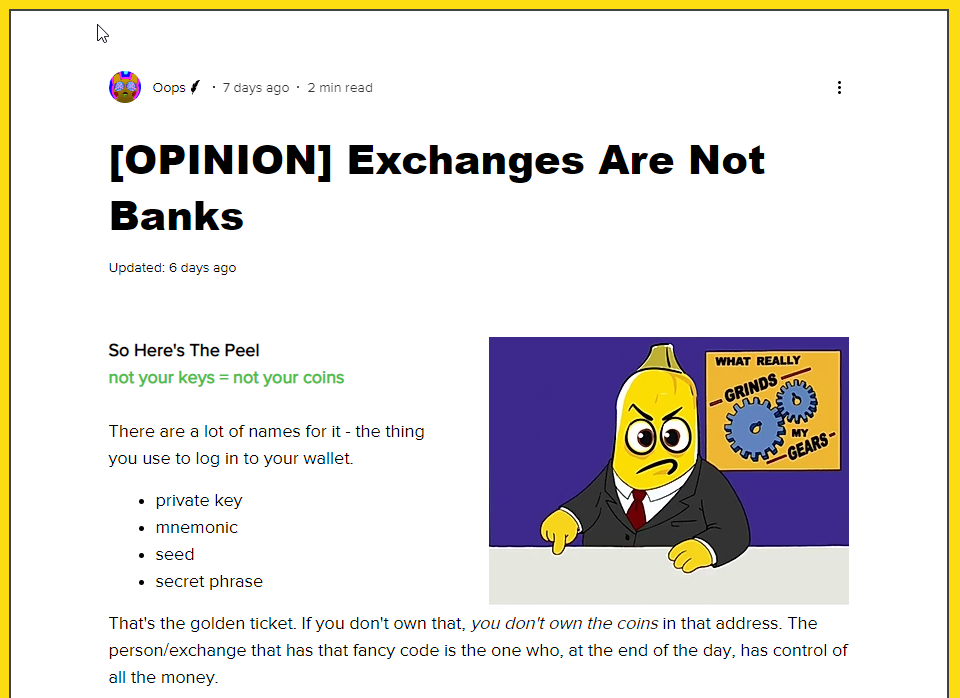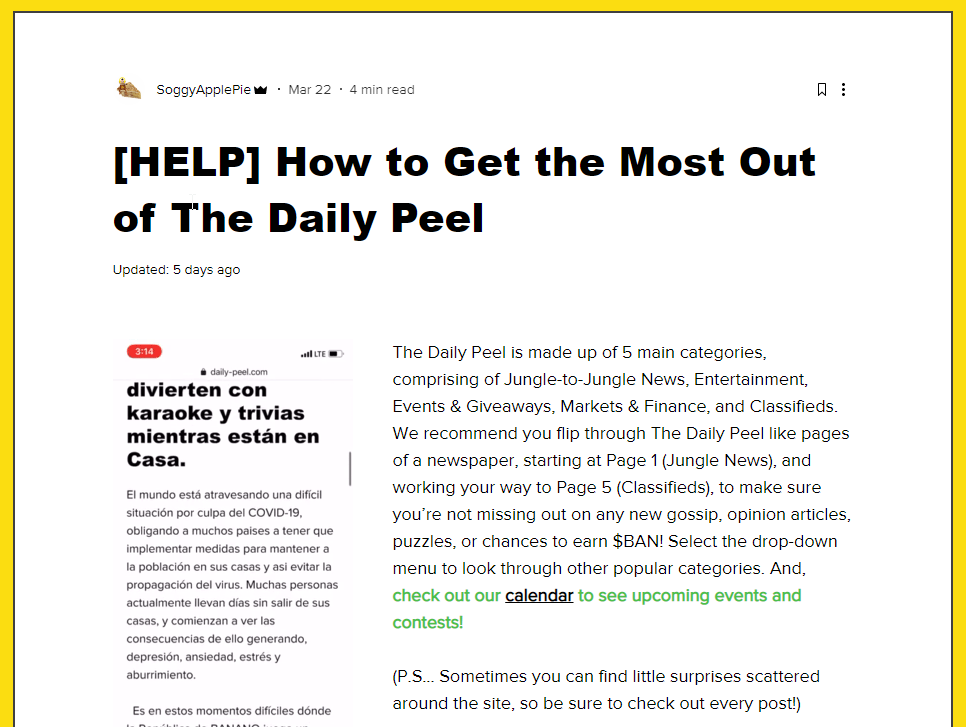 Want to read more about how BANANO was actually used to educate Kids about Money in a real classroom? Read it up here!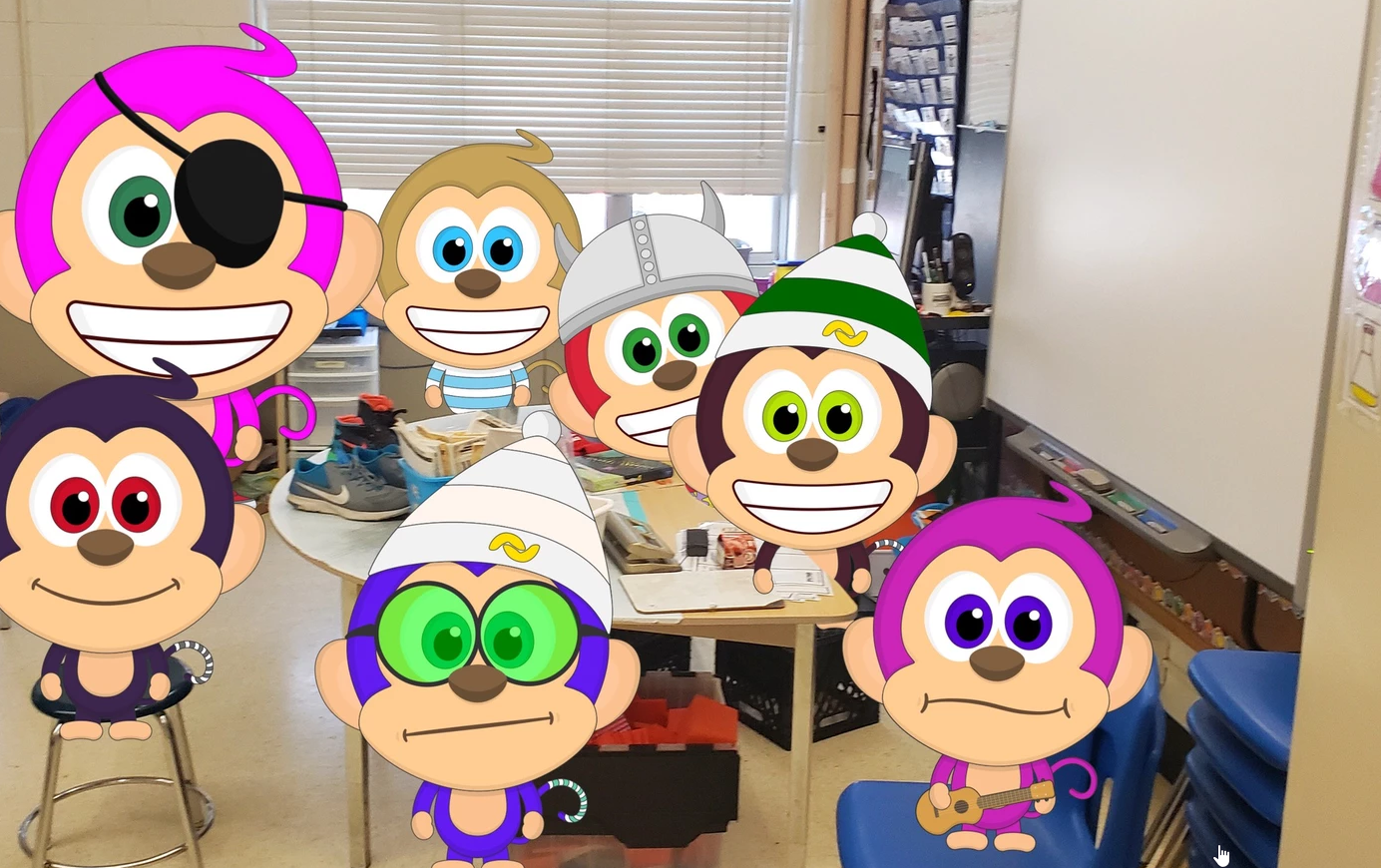 See you there! Also make sure to register and get in touch with others!
Last but not least, a YUGE 'thank you' to the creators of 'The Daily Peel' ❤:

I scrolled too fast, what's BANANO again?
For the impatient ones amongst you who missed the intro above, here's the short version of what BANANO is. Also, if you don't know BANANO yet, it's obviously perfect to just read our brand-new animated, meme-rich and interactive Yellowpaper!
BANANO is a cryptocurrency (forked from NANO in April 2018) powered by DAG technology — here to distrupt the meme economy. Yes, BANANO has memes! And also feeless and near-instant transactions, a highly active community, and active technical development! The BANANO community doesn't take themselves too seriously, but we're here for the long run and we enjoy what we do. A concise explanation can also be found here at Bitcointalk, or on our official website, and you'll find help getting started at banano.how.
See current BANANO price and market data at Coingecko or CoinMarketCap. You'll find a summary of all current trading pairs and exchanges here.
Importantly, BANANO is super easy to use and puts an emphasis on free and fair distribution and crypto education. Just try our slick mobile wallet called Kalium and get your first free $BANANO from one of our faucets within minutes!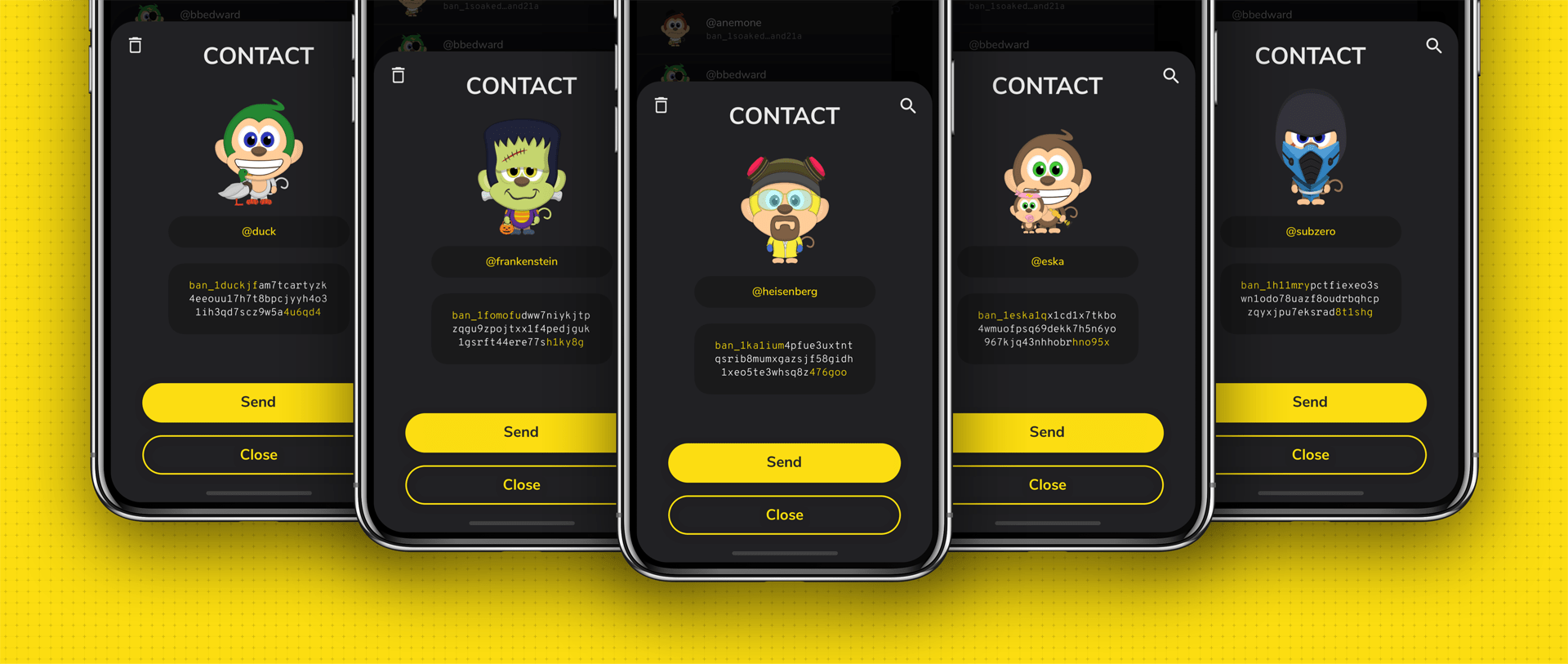 Join the BANANO Republic!
BANANO ($BAN) is a fee-less, instant, rich in potassium cryptocurrency powered by DAG technology disrupting the meme economy.
Official Website: banano.cc
Yellowpaper: https://banano.cc/yellowpaper/
Help getting started: banano.how
Join our social channels for updates & giveaways:
Discord | Reddit |Telegram
Medium | Steemit | Publish0x | Uptrennd
Twitter | Instagram | Facebook
Youtube | Github | BitcoinTalk
Overviews:
BANANO News | BANANO links | BANANO events
---