Wen Banance? BANANO on Binance Smart Chain: wBAN/BUSD PancakeSwap Farm Revival (350k BAN Rewards!)
Apr 9, 2022 • 2 min read
It's been a few crazy days in the BANANO jungle, here's all you need to know:
First, BANANO made cz (Binance CEO) laugh at Twitter with a simple meme ❤ — that's what we do. Don't forget crypto can be fun! Wanna have fun too and get free BANANO? Join the community at chat.banano.cc if you haven't!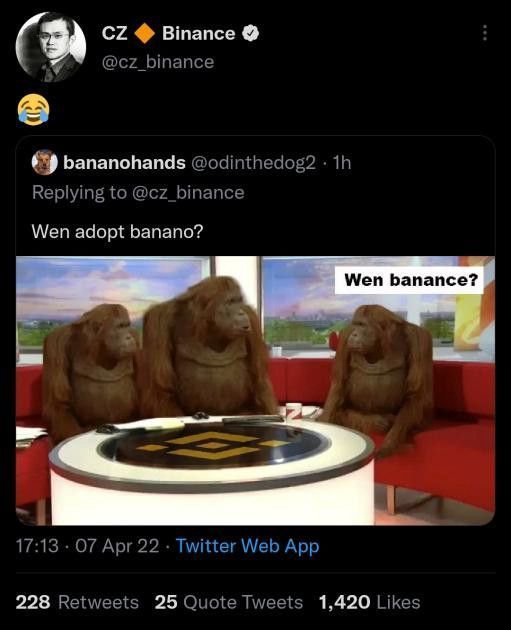 Thanks to a bantastic wholesome community — here's the link to our reply:
No further news to tell about Banance yet, but what we can do at this point is getting out more BANANO freely to everyone on the Binance Smart Chain:
Effective immediately, we brought back our wBAN/BUSD farm at PancakeSwap — with 350k BAN rewards so that you can enjoy our memes on BSC as well.
350k wBAN will be distributed 'til May 7 3PM UTC.
Visit https://wrap.banano.cc and start earning some sweet BANANO right away (choose BSC, wrapped BANANO is also on Fantom and Polygon).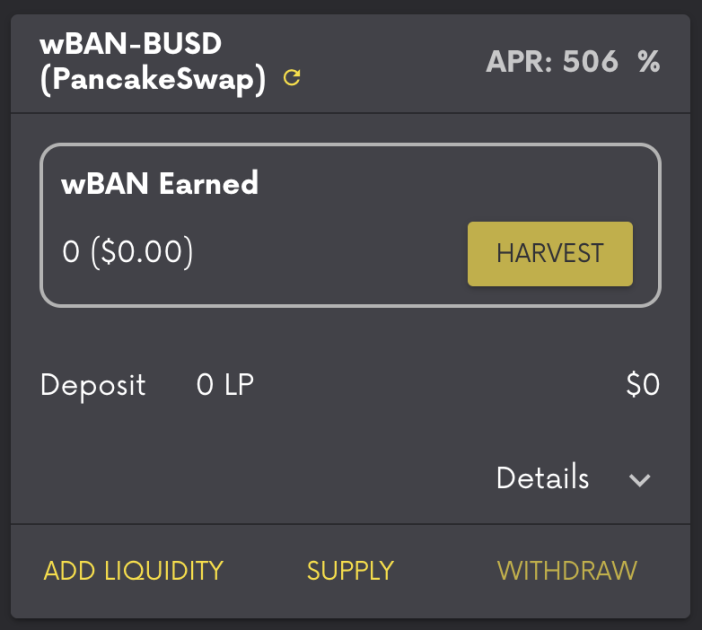 What is wBAN?
wBAN is short for Wrapped Banano. The main idea is that you wrap your Banano as wBAN tokens, and unwrap wBAN tokens back to Banano crypto. This allows you to use a representation of Banano on other blockchain networks! wBAN is currently available on the Binance Smart Chain, Polygon and now Fantom. See wBAN FAQ for more details.
wBAN was created to connect Banano to the wider smart-contracts / DeFi ecosystem. We love seeing monkeys learning and participating in DeFi, and we welcome new users coming onboard Banano!
What the Fork is BANANO?
For those of you who don't know BANANO yet, it's obviously perfect to just read our animated, meme-rich and interactive Yellowpaper! BANANO is a cryptocurrency (forked from NANO in April 2018) powered by DAG technology — here to disrupt the meme economy. Yes, BANANO has memes! And also feeless and near-instant transactions, a highly active community, and active technical development! The BANANO community doesn't take themselves too seriously, but we're here for the long run and we enjoy what we do. On top of this, BANANO is super easy to use and puts an emphasis on free and fair distribution, gamification and crypto education.
See current BANANO price and market data at Coingecko or Coinmarketcap. All current trading pairs and exchanges here.
Join the Banano Republic!
BANANO ($BAN) is a fee-less, instant, rich in potassium cryptocurrency powered by DAG technology disrupting the meme economy.
Official Website: banano.cc
Help getting started: banano.how
Community News: Daily Peel
Yellowpaper | Wiki
Join our social channels for updates & giveaways:
Discord | Twitter | Reddit | Youtube | Telegram | BBS
Medium | Publish0x | Github | BitcoinTalk | Instagram | Facebook | TikTok
Overviews:
BANANO News | BANANO links
---