What If You Were President of BANANO? Event Results!
Dec 8, 2020 • 6 min read
BANANO is a DAG-based cryptocurrency with easy-to-use apps, distributed entirely for free through airdrops, faucets, and games. All happening in a fun, community-driven, meme-rich, and educational atmosphere.
Recently, we were asking YOU what you would do if you were President of the BANANO Republic! Here are all the results and stats, including BANANO cryptocurrency and cryptomonKeys NFT prize allocation details for the best submissions!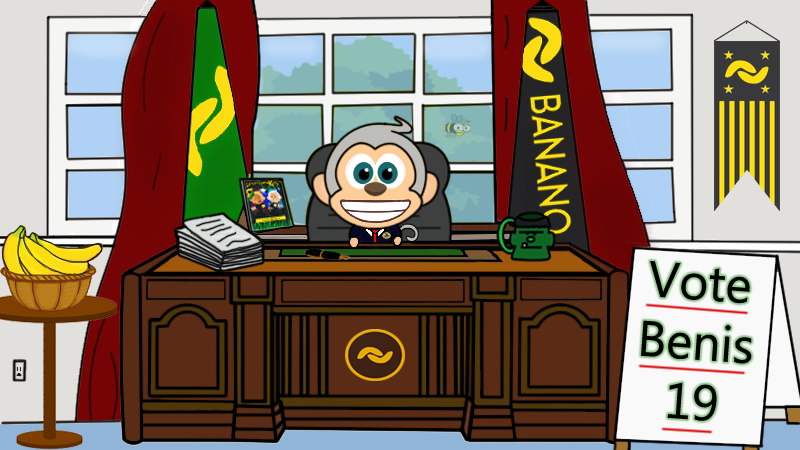 'What If You Were President of BANANO?' Event Results
This event was announced on November 6, and all valid submissions coming in before November 21 were included.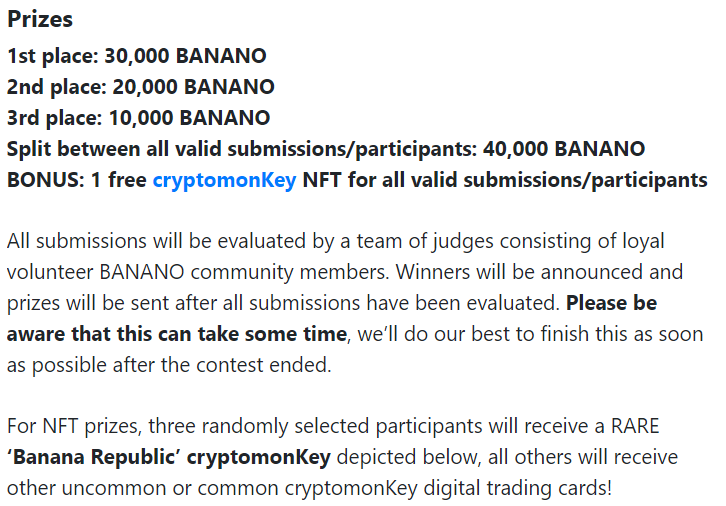 Here's a breakdown of all answers:
Over 50% of respondents first heard about BANANO in 2020! It's great to see the BANANO community continuing to grow so rapidly especially in recent times!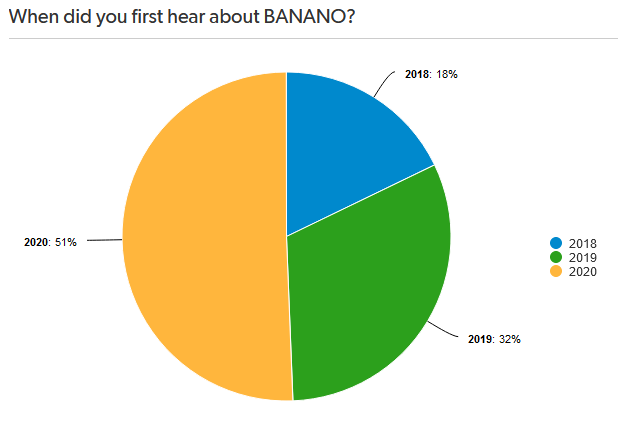 Where did you hear about BANANO the first time?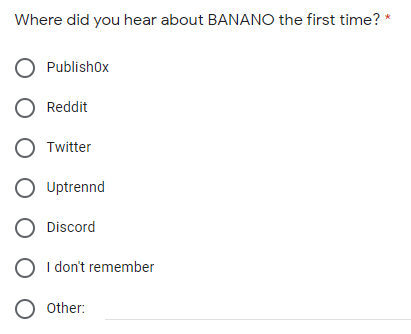 There is a large contingent that first heard about BANANO from Publish0x, with Twitter, Telegram, and Reddit not far behind. The NFT project cryptomonKeys (sharing the meme and community values of BANANO) also made an appearance on the list, even though they were launched only a few months ago.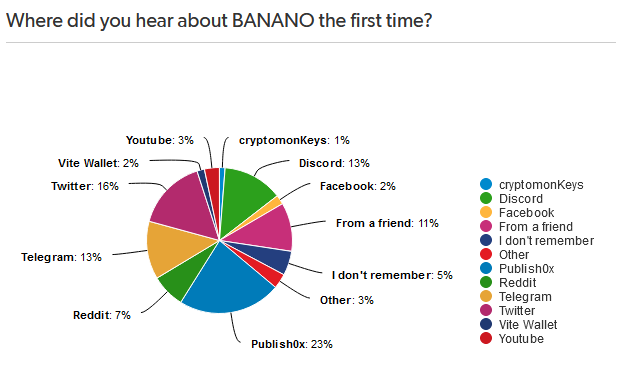 Which social media platform are you most active on? (in terms of BANANO)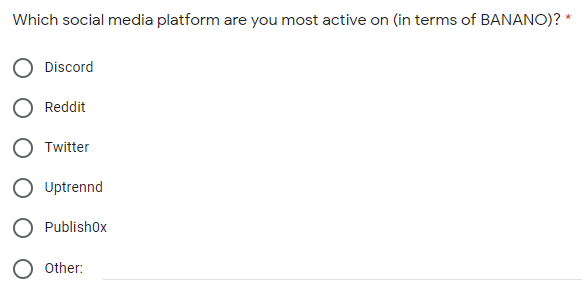 As expected, the BANANO Discord is where a lot of the action happens, with the rest largely split between Twitter, Telegram, and Publish0x.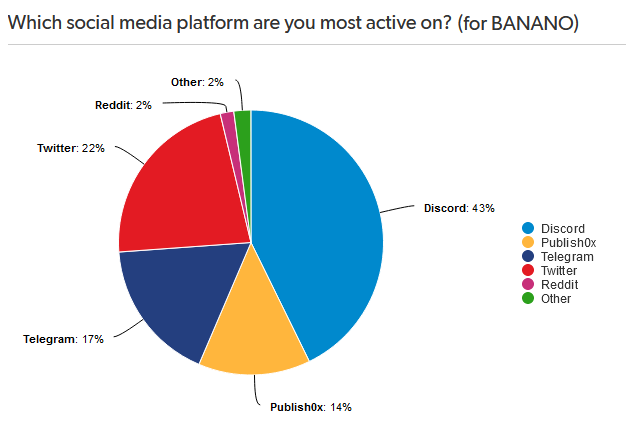 Other free-text questions:

The most common slogan submitted was variations of "Banano for all" and "Potassium for all" — short, to the point, and representative of BANANO's free and fair distribution model.
Some were modeled after past and present political slogans and sayings:
- "In Banano We Trust!"
- "Yes we ban"
- "Make Banano Moon Again"
- "Ask not what the jungle can do for you — ask what you can do for the jungle"
The educational aims of the BANANO community were also on display:
- "Educate with memes"
- "Make crypto fun and easy"
- "Education, fun and decentralization will make the Banano Republic a better place!"
And most of all — the BANANO community celebrates fun:
- "I Don't Monkey Around"
- "Let's moon while having fun"
- "Fast as a monkey, rich as a jungle!"
- "let's use Banano for good!"
- "The Moon is not high enough, Banano to the Sun"
- "Banano — Can't stop that peeling"
- "There is something which no one can buy with money and that is Banano family"
- "Banano is life"

The Monkeys of the BANANO jungle have so many ideas!
Leading the way: More distribution of BANANO and cryptomonkey NFTs, including the creation of new faucets, and the return of previous ones like BANANO Runner, Black Monkey, story2image, and more!
Advertising and increasing awareness:
"Make Instagram and TikTok videos spreading the Banano word in the more creative way possible."
"If I will be president, I will institute an annual Hackathon that will promote the needs the Banano project."
Integration with the wider crypto ecosystem and beyond:
- "Take advantage of the growing awareness of people on BAN, DeFi, Farming and NFTs."
- "More focus for other social networks and exposure on them in all possible languages."
- "Building an education kit for teachers — we already have a project running in our community, why not adopt it and built a kit that we can publish for high school/undergrad teachers?"
And even infrastructure bills: "Building a successful republic isn't easy, keeping it on top is even harder. That's why as soon as I step in the banana-shaped office, I will immediately sign the Massive Education on Meme Engineering bill (MEME)."
Overall — the most thoughtful and insightful entries focused on both strengthening the community, and outreach to the wide world beyond the BANANO jungle.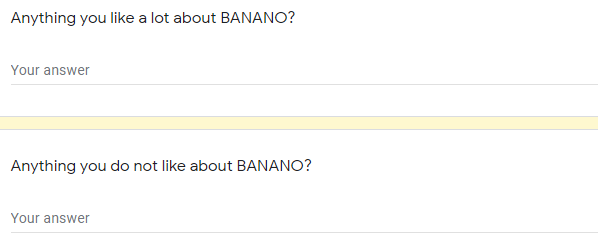 Overwhelmingly, the respondents love the BANANO Community and everything that happens there!
- "The diversification and inclusion. Anyone can join, any country can participate, any particular individual can have an impact and make the republic grow."
- "The real possibility, open for everyone, to learn about blockchain and crypto without the risk of getting rekt (on the pocket) by doing something wrong. Some fellow citizens have taught me a lot about tech and crypto, so that's worthy enough for me to like a project like BANANO is."
- "The community that thrives on the focus on fun, education and welcoming newcomers to crypto — a combination that is very rare in any crypto."
For the areas for improvement, those include:
- "Price"
- "Too few exchanges, can't buy Banano with fiat"
- "It is hard to keep up with all the posts on all platforms."
- "Also would be cool if Banano wasn't so Discord centric. Reddit, twitter will have more reach"
- "Well, I don't like that in the community sometimes some people can be too offensive v: I think we should joke and play (even with black humor xD) but without becoming toxic!"
The Winners
It was really not easy, but these are the wallets of the three submissions our team of judges has selected for the main prizes (BANANO and Rare cryptomonKeys NFTs):
1st place: 30,000 BANANO and a Rare cryptomonKey
ban_3n1r7ckb7ojinhsek5b64sk4ko9omg5yn59dqt7qn63zyxdjpbhmcsk6bu1m
ry4aw.wam
2nd place: 20,000 BANANO and a Rare cryptomonKey
ban_1frmwh8h4faw3bn7cd6wa19aphz1w8zq36yisftexpunzcdbeugb6i4hrn5q
yh2aw.wam
3rd place: 10,000 BANANO and a Rare cryptomonKey
ban_3jshttkekperh4acgsiorkw5ujezbk41pfuuc5hbzhh87g8yywgfhhhidb3a
d5xqw.wam
And 2 honorable mentions (5,000 BANANO and a Rare cryptomonKey) to:
ban_3c6xg79hchomabhgfaohroyyiaty174sm9rpzmrjonqwhr3rsr81hgqf7dhg
h5mqw.wam
and
ban_359c6tktdy8dzcstyj54jmnwo1g8mnssm8f9wst3wjq7aqn9m7gjgtxgbkma
gp2qw.wam
1st-3rd place received BANANO Republic (Rare cryptomonKey)
Honorable mention received The monKeylorian (Rare cryptomonKey)
You didn't win? No worries, we sent an equal share of a total of 60,000 BANANO (256 BAN) to all 234 participants providing a valid entry.
In total, we have increased the BANANO prize pool to 130,000 BANANO.
Also, 223 users submitted a valid WAX address and have received this freshly minted uncommon cryptomonKeys NFT/trading card: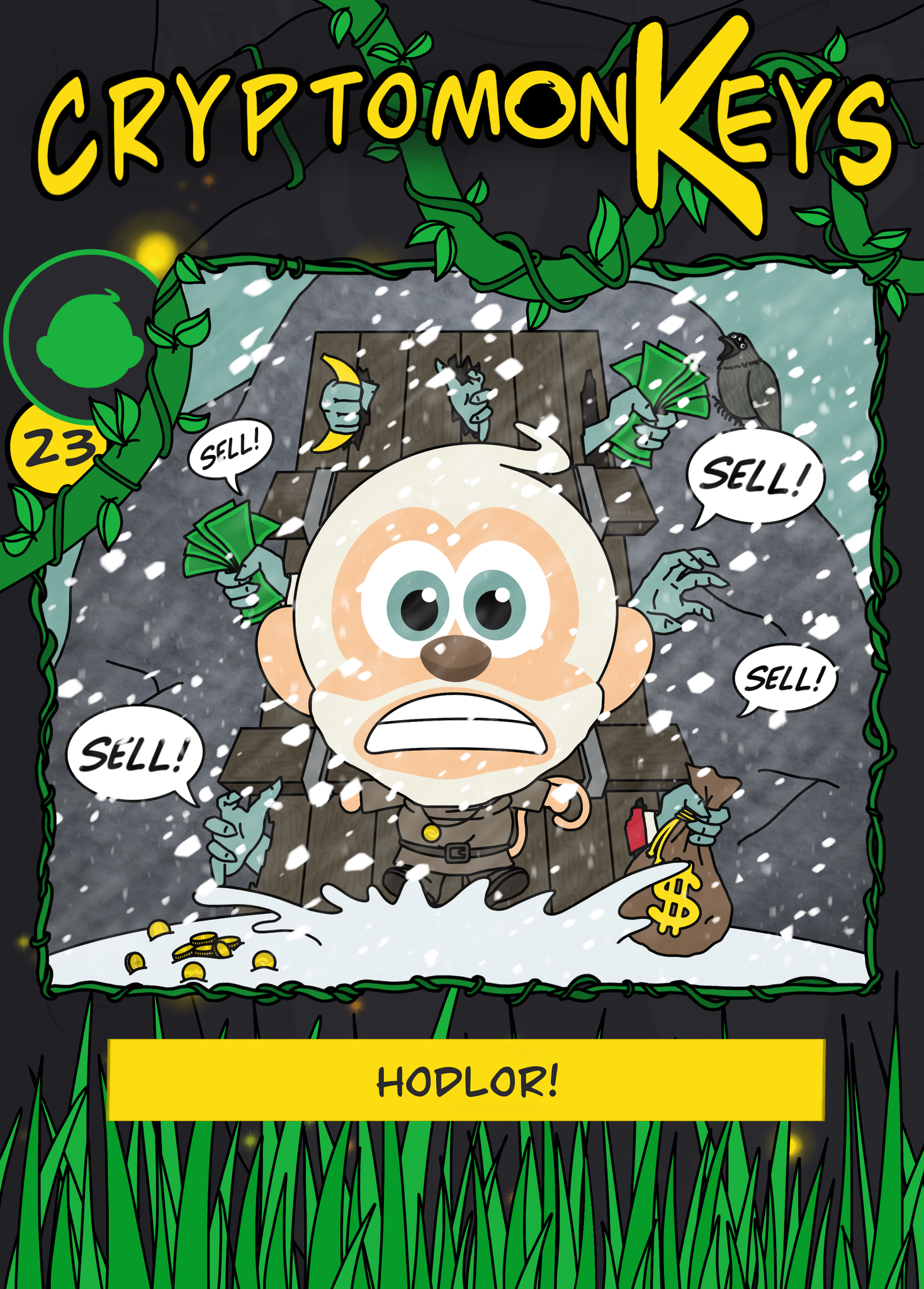 More information about cryptomonKeys here.
BIG congrats to all winners, and thanks to all judges and community members involved, in particular Rexona_Teens who proposed the event, helped with its organization and created the bantastic artwork. Big thanks also to maffs, Phantoad, Oops, Rah, Vyryn, SoggyApplePie, and Kron, who helped with analyzing and presenting the data from all survey responses.
Summary
Thank you all so much for all the insightful and thoughtful submissions! The BANANO team is lucky to have such passionate and devoted community members. We look forward to using these suggestions, comments and feedback to make the BANANO community even better in the future!
Disclaimer and Credits
Any mention of a third party platform, product, service or website in this article does not imply an endorsement by the BANANO core team. All information is provided to the author's best knowledge at the time of writing, will likely not be updated and thus might be outdated when this article is read in the future. CryptomonKeys is not an official BANANO core project as such, but a community project created on top of the BANANO monKey concept by two BANANO core team members, SoggyApplePie and bantano. This event/contest was proposed by the BANANO community member Rexona_Teens, who also created the bantastic cover artwork. Preparation of this summary by bantano and Kron, with input from maffs, Phantoad, Oops, Rah, Vyryn, and SoggyApplePie.
What the Fork is BANANO?
For those of you who don't know BANANO yet, it's obviously perfect to just read our animated, meme-rich and interactive Yellowpaper! BANANO is a cryptocurrency (forked from NANO in April 2018) powered by DAG technology — here to distrupt the meme economy. Yes, BANANO has memes! And also feeless and near-instant transactions, a highly active community, and active technical development! The BANANO community doesn't take themselves too seriously, but we're here for the long run and we enjoy what we do. On top of this, BANANO is super easy to use and puts an emphasis on free and fair distribution, gamification and crypto education.
See current BANANO price and market data at Coingecko or Coinmarketcap. All current trading pairs and exchanges here.
Join the Banano Republic!
BANANO ($BAN) is a fee-less, instant, rich in potassium cryptocurrency powered by DAG technology disrupting the meme economy.
Official Website: banano.cc
Yellowpaper: banano.cc/yellowpaper
Help getting started: banano.how
Community News: The Daily Peel
Join our social channels for updates & giveaways:
Discord | Twitter | Telegram | Reddit | Youtube
Publish0x | Uptrennd | LBRY | Medium | Hive
Github | BitcoinTalk | Instagram | Facebook | TikTok
Overviews:
BANANO News | BANANO links | BANANO events
---