Wrapped BANANO (wBAN) is now Live on Polygon and SushiSwap!
Sep 8, 2021 • 3 min read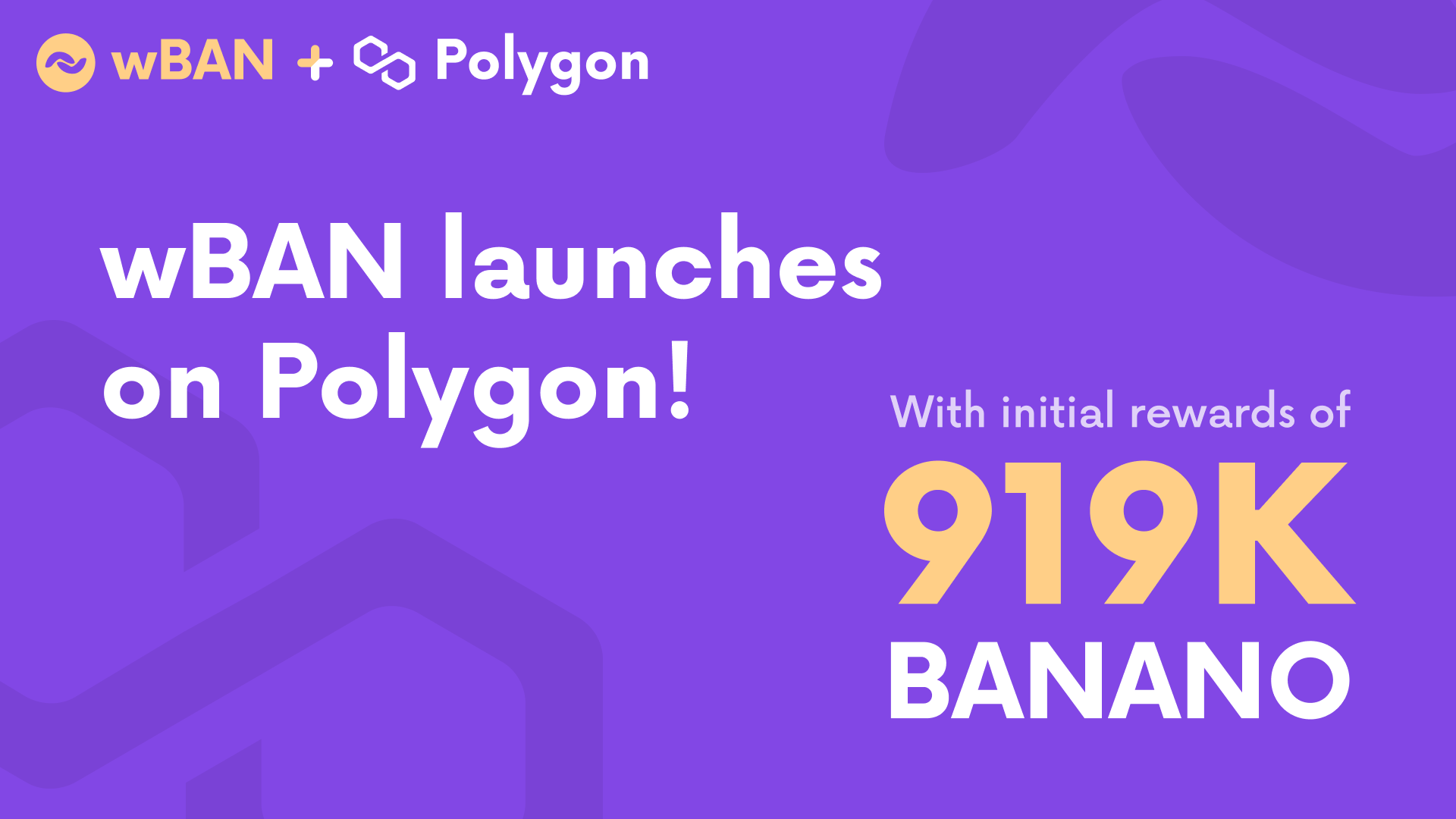 If you followed recent wBAN updates this is no surprise for you: Wrapped BANANO (wBAN) is now available on Polygon, and can now be traded on SushiSwap! Read more below!
wBAN on Polygon
What does this mean?
You are now able to wrap BAN into wBAN, on the Polygon blockchain, with crazy low transaction fees => https://polygon.banano.cc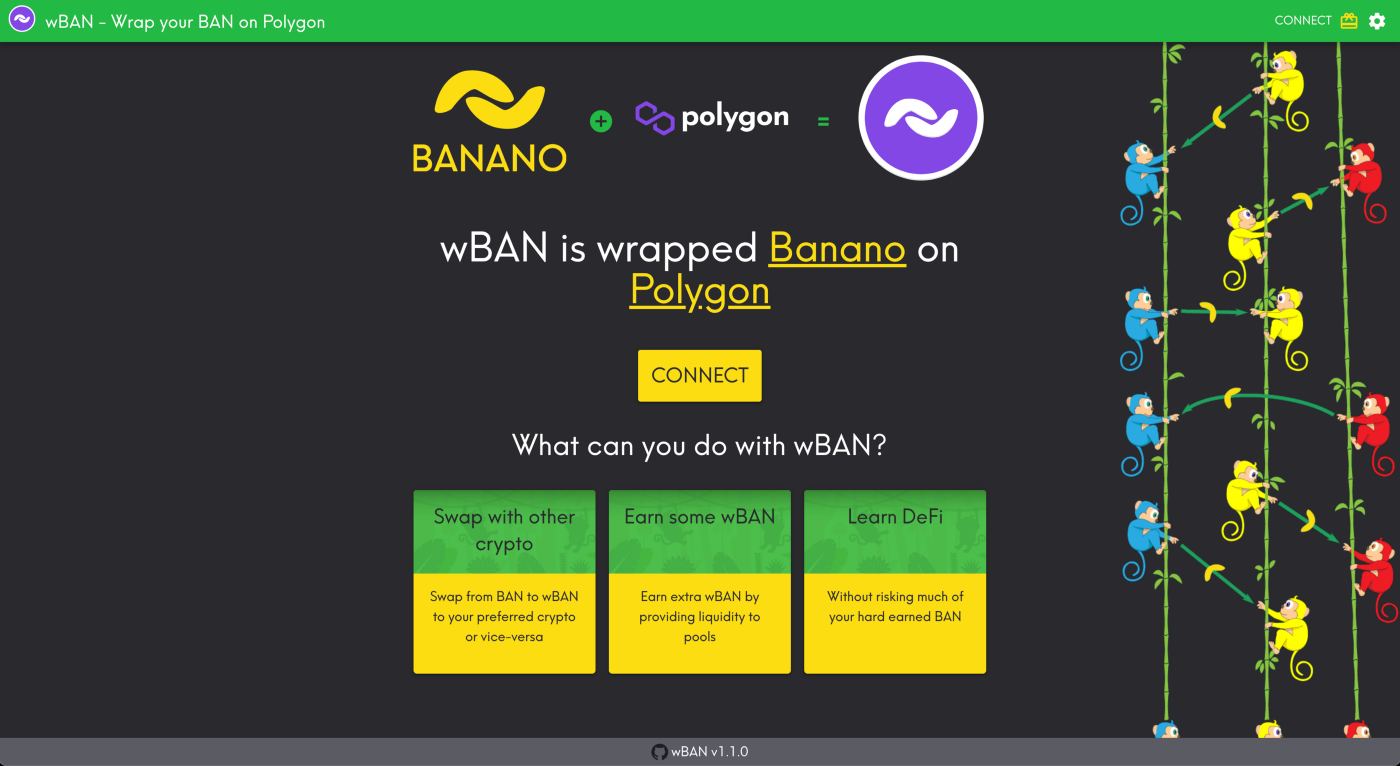 There is more!
A wBAN-wETH liquidity pool has been bootstrapped on SushiSwap.
Through the Wrapped Banano dApp, you have the opportunity to stake your liquidity pool tokens from this pool into the wBAN-wETH farm, rewarding you with wBAN!
Benis is generous!
Benis, our smart-contract in charge of all our farms, starting from today at 7.19PM UTC and 19 seconds (full of potassium, right?) will be giving away 919k BAN until October 9, 3PM UTC!!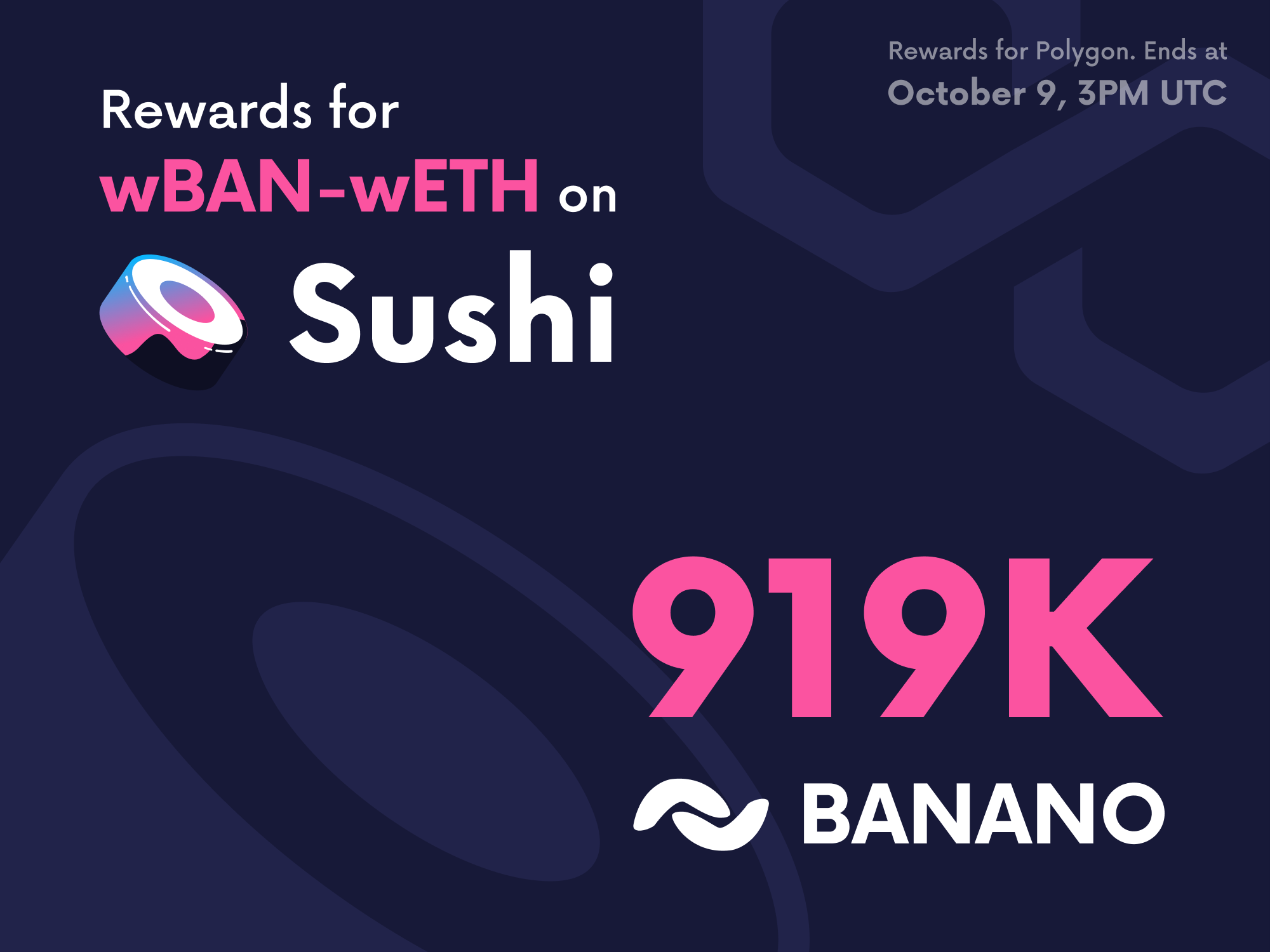 As always, APR (Annual Percentage Rate) will fluctuate a lot depending on how much liquidity is provided and staked in the farm.
How does this work?
What's the wBAN address on Polygon?
The same as the one used for BSC (how convenient? 🤣):
0xe20B9e246db5a0d21BF9209E4858Bc9A3ff7A034
Why is SushiSwap displaying a security warning with wBAN?
wBAN is whitelisted on ApeSwap, on Binance Smart Chain.
Unfortunately we aren't whitelisted (yet?) on SushiSwap.
As long as you ensure that "wBAN" is the above token address, you'll be fine: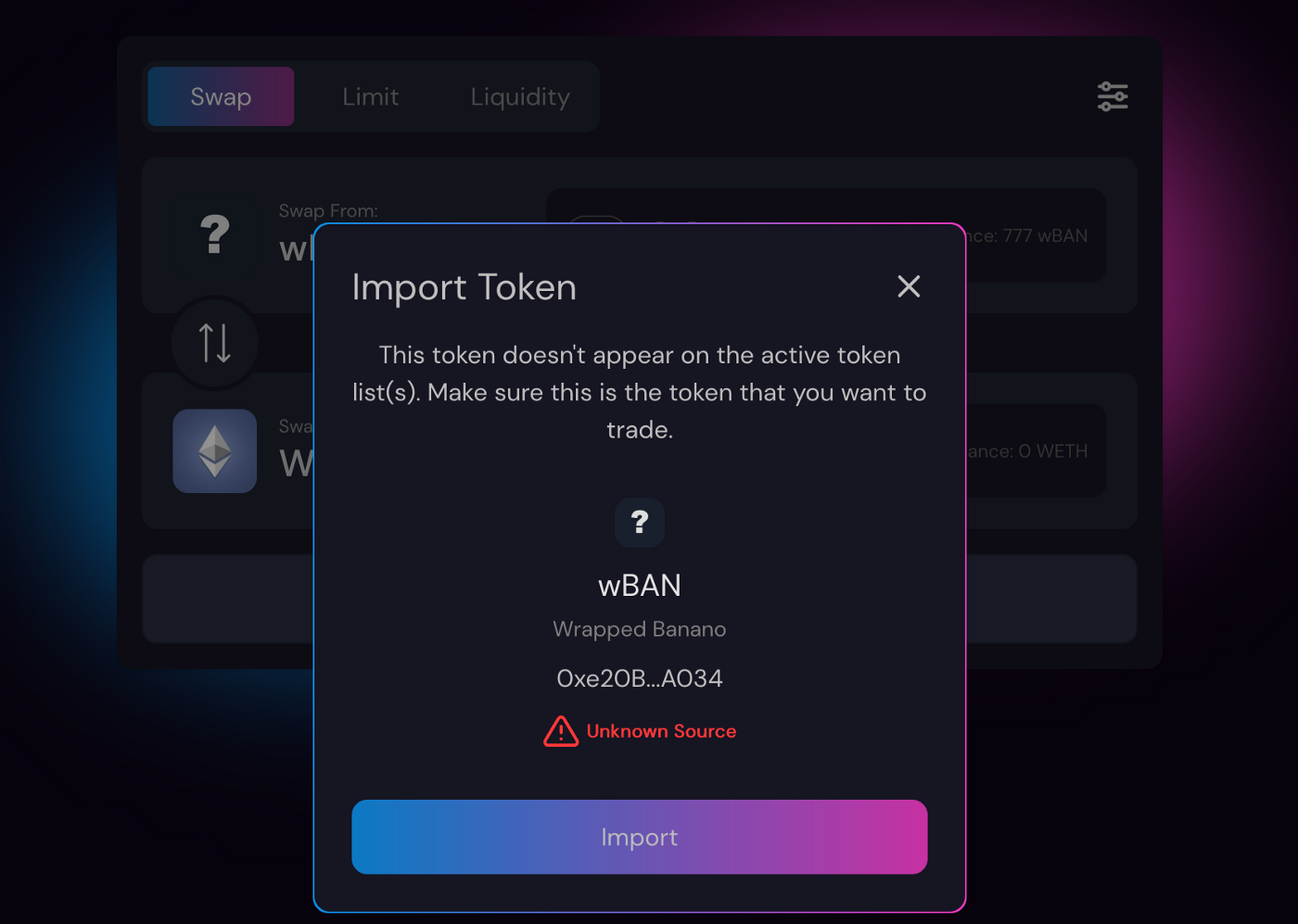 How can I transfer my wBAN on BSC to Polygon?
You have to unwrap them using the BSC app and then wrap them using the Polygon app. We will explore easier ways to do this later!
I already setup MetaMask for BSC, what should I do?
Great: you're almost good to go.
You can use the same wallet/address on the Polygon network.
The Polygon app will assist you and add the required custom network for you.
Even better: both the BSC and Polygon apps will check that you are connected to the proper network, and will otherwise assist you switching networks.
As always, this is not financial advice, there are inherent risks associated with DeFi, from impermanent loss to smart-contract or app bugs. DYOR!
What the Fork is BANANO?
For those of you who don't know BANANO yet, it's obviously perfect to just read our animated, meme-rich and interactive Yellowpaper! BANANO is a cryptocurrency (forked from NANO in April 2018) powered by DAG technology — here to disrupt the meme economy. Yes, BANANO has memes! And also feeless and near-instant transactions, a highly active community, and active technical development! The BANANO community doesn't take themselves too seriously, but we're here for the long run and we enjoy what we do. On top of this, BANANO is super easy to use and puts an emphasis on free and fair distribution, gamification and crypto education.
See current BANANO price and market data at Coingecko or Coinmarketcap. All current trading pairs and exchanges here.
Join the Banano Republic!
BANANO ($BAN) is a fee-less, instant, rich in potassium cryptocurrency powered by DAG technology disrupting the meme economy.
Official Website: banano.cc
Yellowpaper: banano.cc/yellowpaper
Help getting started: banano.how
Community News: The Daily Peel
Join our social channels for updates & giveaways:
Discord | Twitter | Telegram | Reddit | Youtube
Publish0x | Uptrennd | LBRY | Medium | Hive
Github | BitcoinTalk | Instagram | Facebook | TikTok
Overviews:
BANANO News | BANANO links
Official Website: banano.cc
Yellowpaper: banano.cc/yellowpaper
Help getting started: banano.how
Community News: The Daily Peel
Join our social channels for updates & giveaways:
Discord | Twitter | Telegram | Reddit | Youtube
Publish0x | Uptrennd | LBRY | Medium | Hive
Github | BitcoinTalk | Instagram | Facebook | TikTok
Overviews:
BANANO News | BANANO links
---