Wrapped BANANO (wBAN) v2 and Updates — March 2022
Mar 19, 2022 • 3 min read
wBAN v2 Public Beta available
As you know, wBAN is deployed on multiple networks: Binance Smart Chain, Polygon, Fantom.
To interact with wBAN, the v1 uses one website per blockchain.
In v2, this is over, there is one app to rule them all!
You will be able to switch between blockchains with ONE click. The v2 beta is available NOW for beta testers.
Behold wBAN v2: https://wrap.banano.cc
And skip all warnings below, because who reads, right?
(Please read the warnings)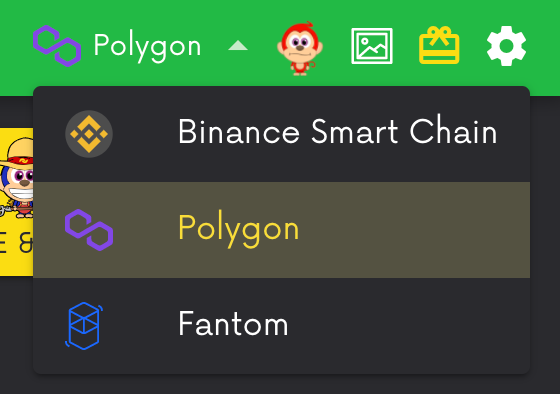 Easily switch from one blockchain to the other
Consolidating the multiple apps into one has some nice benefits: you can now easily look at all your farm data, wrap, swap — all in a single place and for all supported blockchains!
You need to be aware of a few things before you try using it though:
You will have to do a partial setup again: enter the BAN address you setup before, use the same blockchain wallet (MetaMask, Trust Wallet, etc) — there is no need for an extra BAN deposit.
If you switch to a blockchain you didn't set up earlier, you'll have to do the setup for this blockchain.
You must use the same pair of BAN + blockchain addresses for all blockchains. If you registered different addresses for each v1 app, then you'll need to stick to a single pair of BAN + blockchain addresses for all blockchains.
This is a public beta: we did our best to test it. If you encounter some bugs or need help, let us know in the #wrapped-banano channel on the Banano Discord server.
wBAN v1 apps are still running meanwhile and will be stopped in a few months. That should give you enough time to start using v2. We will give advance notice before the v1 apps are stopped.
[Polygon] SushiSwap wBAN-wETH
The liquidity will still be incentivized and 300k BAN will be distributed from March 26 to April 23, 2022.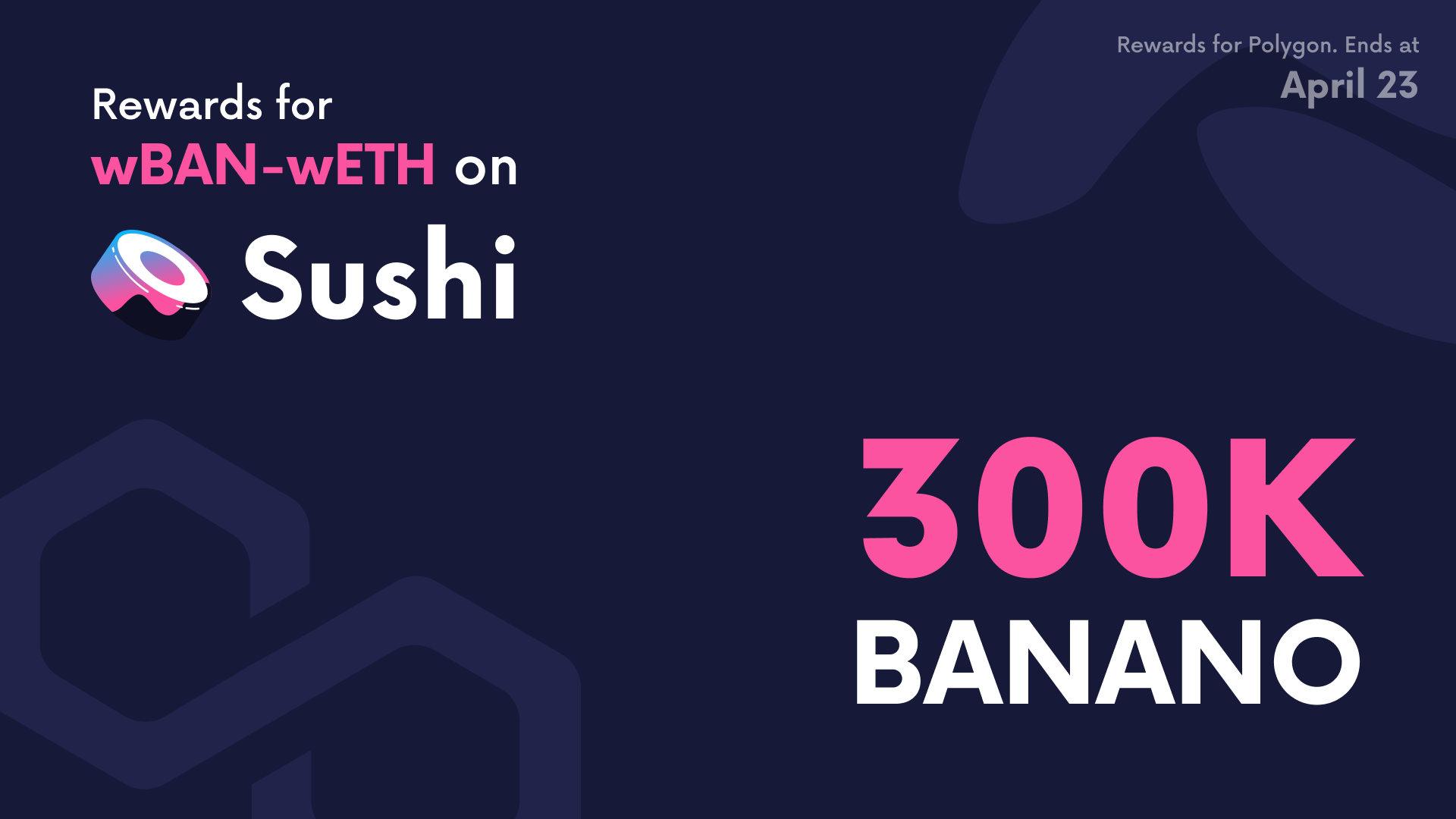 [Fantom] SpookySwap wBAN-USDC & wBAN-FTM
Liquidity in both farms will be incentivized and 900k BAN will be distributed from April 2 to April 30.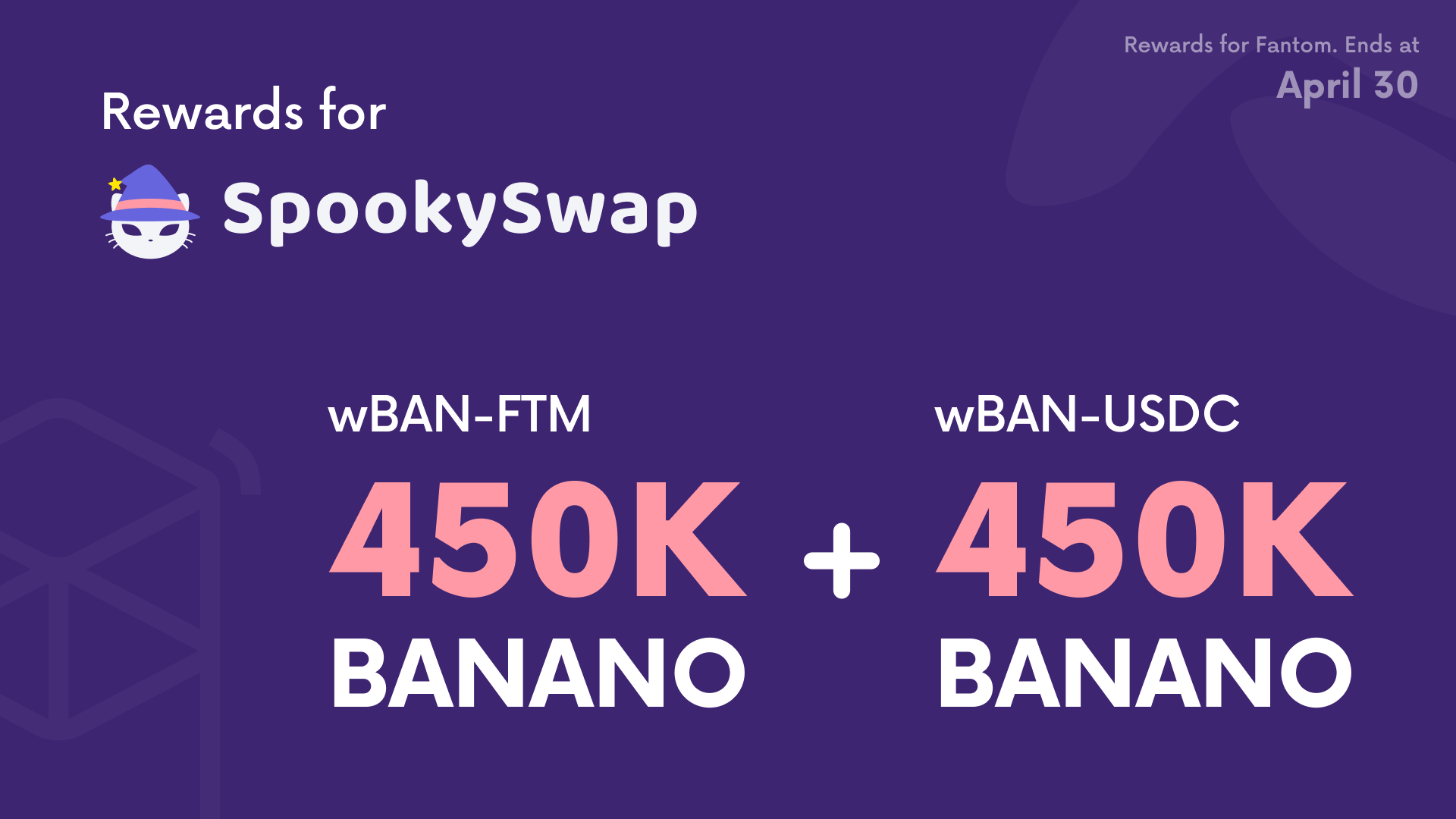 These rewards are shared 50/50 between each farm, so 450k BAN each for those 28 days.
Multipliers should be adjusted on April 30 with one of the farm having a lower multiplier than the other one.
In order to be able to swap wBAN from/to other crypto, there is a need for liquidity providers. Since liquidity providers are taking risks (in the form of impermanent loss), some farms are running to provide rewards proportional to the liquidity they provide. "Benis" is the smart-contract in charge of distributing those rewards.
Credits
This article has been written by Wrap That Potassium with editorial help from Kron (Kron#0582 on Discord), iazid, and illustrations from Yekta.
---
What is wBAN?
wBAN is short for Wrapped Banano. The main idea is that you wrap your Banano as wBAN tokens, and unwrap wBAN tokens back to Banano crypto. This allows you to use a representation of Banano on other blockchain networks! wBAN is currently available on the Binance Smart Chain, Polygon and now Fantom. See wBAN FAQ for more details.
wBAN was created to connect Banano to the wider smart-contracts / DeFi ecosystem. We love seeing monkeys learning and participating in DeFi, and we welcome new users coming onboard Banano!
---
What the Fork is BANANO?
For those of you who don't know BANANO yet, it's obviously perfect to just read our animated, meme-rich and interactive Yellowpaper! BANANO is a cryptocurrency (forked from NANO in April 2018) powered by DAG technology — here to disrupt the meme economy. Yes, BANANO has memes! And also feeless and near-instant transactions, a highly active community, and active technical development! The BANANO community doesn't take themselves too seriously, but we're here for the long run and we enjoy what we do. On top of this, BANANO is super easy to use and puts an emphasis on free and fair distribution, gamification and crypto education.
See current BANANO price and market data at Coingecko or Coinmarketcap. All current trading pairs and exchanges here.
Join the Banano Republic!
BANANO ($BAN) is a fee-less, instant, rich in potassium cryptocurrency powered by DAG technology disrupting the meme economy.
Official Website: banano.cc
Help getting started: banano.how
Community News: Daily Peel
Yellowpaper | Wiki
Join our social channels for updates & giveaways:
Discord | Twitter | Reddit | Youtube | Telegram | BBS
Medium | Publish0x | Github | BitcoinTalk | Instagram | Facebook | TikTok
Overviews:
BANANO News | BANANO links
---